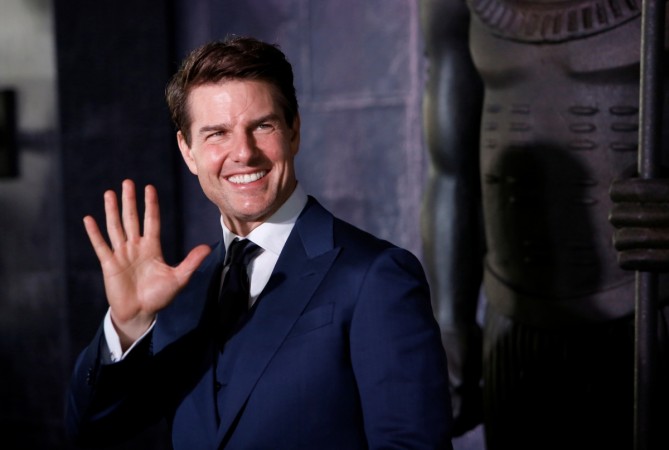 This year, Tom Cruise has been in news for two of his movies – The Mummy and American Made – and his dating life. On the work front, The Mummy was a disastrous whereas American Made also failed to cause a remarkable impact at the box office.
However, on the personal front, the actor made headlines when he was associated with two women this summer. The actor was mistakenly linked to an Australian journalist and then was associated to his Mission: Impossible 6 co-star and Crown actress Vanessa Kirby.
Also Read: Tom Cruise falls in love, again! This time it's not what you think
While airs around both the rumours were cleared by both the women, a new rumour has sparked about Tom Cruise's dating life. The grapevine has it that given the actor's recognisable face, he has resorted to disguising and getting into the dating scene.
"Tom's back on the dating scene, but nobody knows it's him. His face is way too recognizable for him to stroll into the bars, so he has his makeup artist create a silicone mask," a source told Star Magazine.
Apparently the Top Gear star's make-up takes about five hours to apply. "Seems like Tom took his Mission: Impossible role to heart. It's just what Ethan Hunt would do in the movies," the source claims.
If you think that's insane, the next claim is going to leave your jaws dropped. The insider claims that the Church of Scientology handpicks the actor's dates, who have "no idea it's him."
As mind-boggling as this rumour sounds, Gossip Cop clarifies that there is no truth in these claims. Sources claim that the story is "nonsense."
However, this isn't the first time that claims about Church of Scientology helping Cruise find a life partner have sprung up.
In 2013, a controversial book titled Going Clear: Scientology, Hollywood and the Prison Belief allegedly revealed that Cruise complaint to Scientologist leader and his best friend David Miscavige that he wasn't being able to find a new Mrs Cruise after his three year relationship with Cruz ended.
According to the book, they did not waste and began search for a suitable new Cruise partner. Actresses like Scarlett Johansson, Jessica Alba, Lindsay Lohan and Kate Bosworth were auditioned to be Cruise's new wife before he settled for Katie Holmes.
However, according to a report by Daily Mail, Church of Scientology and Cruise denied all claims.