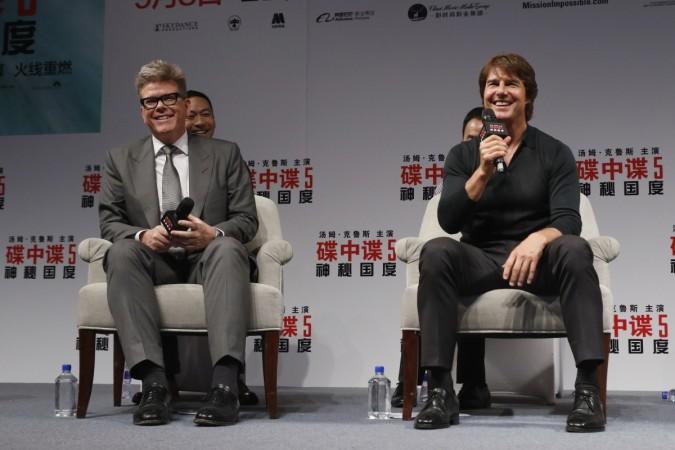 Everyone wants to know where Tom Cruise's heart is now. After all, he has had after three marriages and subsequent divorces.
The question every fan wants to ask is: Who will be the new Mrs Cruise? While we might not know about his current relationship status, we do know he has fallen in love again.
Hold on, before jumping to all kinds of conclusion. Let's just clarify that his love is for a place and not a woman. The actor is currently filming Mission:
Impossible 6. Returning to the sets after recovering from an injury, Cruise was photographed shooting in Essex and it is reported that the actor has fallen in love with the city.
Also Read: 'American Made' a DIG at Tom Cruise's career? Here's what the Director has to say
The Top Gun star couldn't stop gushing about the city and he was compelled to call the mayor of Brentwood, Councillor William Russell, to share his feelings about the town.
"He wanted to thank the people of the town. He wanted to say what a lovely forest we have. He wanted to say he had a wonderful time in Brentwood and it was a great town," Russell was quoted by Express UK as saying.
He also recalled the conversation to praise the actor's grounded personality. "He didn't ring to say, 'It's Tom Cruise'," said Russel, adding that he revealed his identity like any normal person. "He asked if I was the mayor and went on to say that I did know him," he said.
"I didn't quite believe it at first and I became very guarded. Then I thought that I had no reason to doubt it. It sounded like him and he wasn't being ridiculous," the mayor said.
Cruise was earlier this week seen performing what looked like a chase sequence through the forests of Thorndon Country Park. The 55-year-old was clicked getting on and off a black helicopter and was also photographed during a scene.
The American Made actor returned to filming after about six weeks' break. Injured while performing a tricky stunt scene, the actor broke his ankle and was ordered a few weeks of rest.
With his return, the makers of MI6 will be keen on wrapping up the filming and releasing Mission Impossible 6 on its scheduled release date in July 2018.