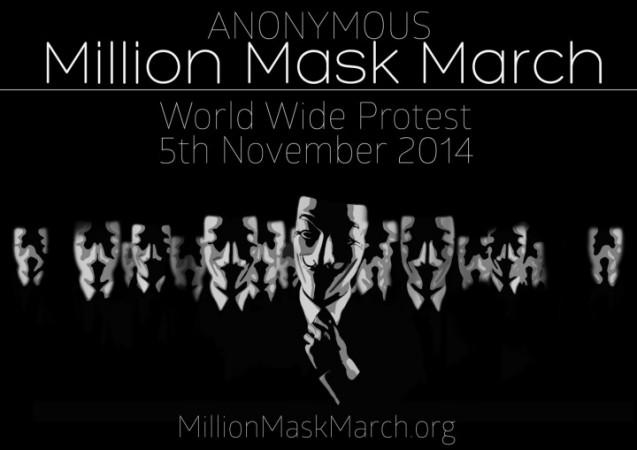 Members of the mysterious internet activist movement 'Anonymous' have said they will take to the streets worldwide in the second annual 'Million Mask March' on 5 November 2014, coinciding with the Guy Fawkes Night.
Last year, hundreds of thousands of people participated in marches around the globe.
Like the inaugural 'Million Mask March' event in 2013, Wednesday's event aims "to shed light on corrupt government in order to set people free from oppression", the group has said.
So far 463 groups in different parts of the world have readied themselves to hold the march on Wednesday, which coincides with the Guy Fawkes Night, also known as the Bonfire Night.
The popular online movement has used the Guy Fawkes Mask as an unofficial emblem of the protests.
Anonymous claims to be a "truth movement" advocating "hacktivism" as self-defence for what they refer to as 'unconstitutional government'.
Anonymous has dubbed the protest as the "largest world protest by the most influential group in the world" and by the looks of it, it is going to be a major scene on the streets this time round too.
Global Movement/ Map
The group has released a map with details on the location of all 463 events registered so for, indicating how big and global the movement is. Events are scheduled to take place in far off places such as Africa, Australia, Asia and South America although majority of them will be in North America and Europe.
According to the map, there is a protest event scheduled even in Antarctica.
India
The 'Million Mask March' Map also indicates there will be protests in 10 cities in India, two in Pakistan and one each in Bangaladesh and Maldives. In New Delhi, the March will start at 4:30pm from Jantar Mantar and will proceed to Rashtrapati Bhawan.
In Bangalore, the protest will be held in Freedom Park starting from 8 am on Wednesday. "It is our aim to shed light on corrupt government in order to set people free from oppression," the facebook page dedicated for the Bangalore protests said.
Other Indian cities to hold the march include Indore, Pune, Mumbai, Hyderabad, Chennai, Calicut, Kochi and Trivandrum.
London
During the Million Mask March in London last year, over 2,500 people vented their frustration at the UK government over issues such as badger culling. This year, protest march will be held in 22 British towns and cities including Belfast, Glasgow, Manchester, Liverpool, Plymouth and London.
As the Anonymous structure has no centralised leadership, two different marches will take place in London this year.
One will start in Trafalgar Square in central London at 6pm and will proceed to Westminster. The second one will begin in Parliament Square near Westminster at around 8pm.