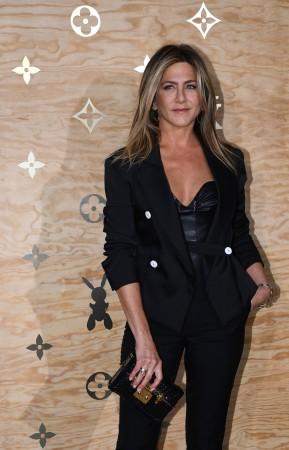 Jennifer Aniston has done several films throughout her career. With films like Horrible Bosses, The Bounty Hunter, and The Switch, Aniston has always amazed her fans with her splendid performances. But her Dumplin' movie has reportedly made her cry.
As per a report by Entertainment Tonight, Jennifer Aniston joined her Dumplin' co-star Danielle Macdonald to sing "Push and Pull," and after the recording session, Jennifer burst into tears.
"[I was so nervous] but I sang through it and then got my voice. I literally couldn't have a squeak come out, and then when we finished, I remembered, I just burst into tears," Aniston recently said.
The upcoming musical comedy film, Dumplin', is directed by Anne Fletcher and is based on the YA novel of the same name by Julie Murphy. The film follows the story of Willowdean Dickson (Danielle Macdonald), who is nicknamed Dumplin by her mother (Jennifer Aniston) and is called Will by her friends. In the story, she is an overweight teenager who has always felt that she is comfortable with her body.
Willowdean doesn't care that her mother was herself a teen beauty queen back in her days but everything around her changes when she meets a handsome guy, Bo (Luke Benward), who shows interest in dating her. The story has several ups and downs but in the end, everything works out perfectly.
While talking about the movie, Dolly Parton, who has composed the music for Dumplin', stated that Jennifer Aniston did get really emotional after she was done the recording.
"It was terrifying and fun and all of it... it was great," Aniston added. "[I was] fearless, yes, or fearful, depending on how you look at it. But I had Dolly and Linda Perry there, who were just patient and wonderful."
In the film, Jennifer Aniston is shown to have a southern accent and it would be pretty exciting to hear her in that accent.
"I love picking up on accents anyway. It's something I've always been able to do a little, and that one in particular. But I also have a fantastic dialect coach who just sort of would give me little tips here and there," Aniston further explained. "[The toughest thing] is not knowing if you got it right."
Dumplin' is all set to release on December 7 by Netflix.