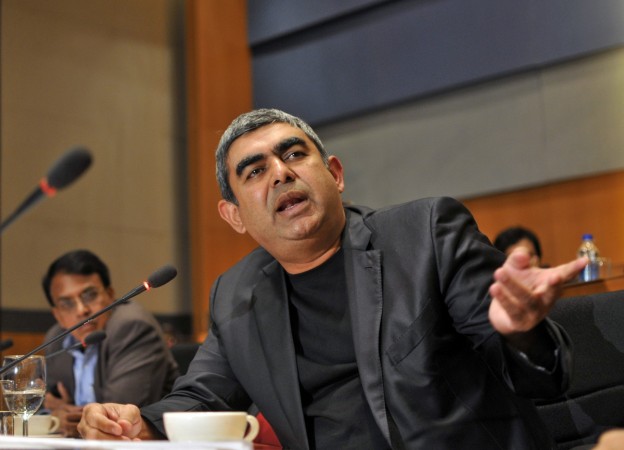 To achieve the company's goal of increasing revenues to $20 billion by 2020, Infosys CEO Vishal Sikka seems to be getting down to brass tacks.
A key aspect of it is the CEO spending more time with the company's top 100 clients such as Bank of America and Apple, signalling the importance of the exercise. The IT software services company's senior management has been asked to give priority to assist in exploring the accounts for the purpose, says a report in The Economic Times.
Other aspects of its 'Vision 2020' entail "driving up margins through automation, squeezing higher share of revenues from services such as consulting, and acquisitions," says the report.
"If you look at the past few years, TCS and Cognizant have been far ahead of Infosys in terms of incremental revenue generation. So mining the top accounts and maximising revenues is the centerpiece of the new-and-renew strategy," the daily quoted a source privy to the development as saying.
India's second largest software exporter had briefed its top clients such as Microsoft, Phillips and ABN AMRO about its latest strategic moves at the Infosys Confluence event held in April.
The Bengaluru-based company is aiming for "incremental revenue growth" from these companies by putting in place a "dedicated partner" for each – a practice prevalent in rival companies such as Accenture and Cognizant.
The company is also beefing up its sales team associated with these accounts.
In addition, Infosys is focusing on automation, in line with its peers and plans to automate 70 percent of its services in infrastructure management business and nearly 55 percent of business process outsourcing (BPO) segment. The company has already automated 35-40 percent of its services in the BPO space.
Sikka also plans to increase the contribution of revenues from new segments such as analytics and cloud computing to 10 percent of overall revenues by 2020.
The company intends to introduce the services such as "orecasting-as-a-service, big data, analytics, digital asset management and search" in its BPO arm.
At the Confluence event, the CEO told clients that the company's design-thinking move enabled it to win more than 100 consulting projects.
The company has given training to nearly 25,000 employees in design-thinking and plans to extend training to 22,000 more in the current financial year. Besides, it has imparted training to about 1,000 employees in artificial intelligence.
The software major estimates employee productivity to increase to $80,000 by 2020, compared to the current $52,500.
It is also eyeing Indian startups for investment as part of its strategy to provide technology solutions to companies that are experiencing "new-age" problems.
Infosys has also increased the size of the startup fund by five times to $500 million in January this year. Besides, Sikka has allocated $250 million for investment in Indian startups.
However, UBS, a global investment bank has expressed doubts about Infosys achieving 'Vision 2020' and sees it as a "significant challenge" for the company.