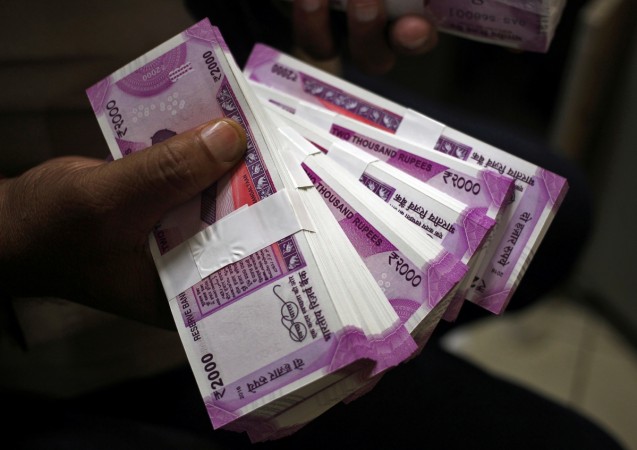 Even before the Reserve Bank of India (RBI) launched the new 2000-rupee note, rumours had begun floating about it. And when it did finally appear on November 10, 2016, there were a few things about it that caught people's imagination.
At first, everyone believed that it had a GPS chip embedded in it so that black marketers could be tracked. This gave most critics of Prime Minister Narendra Modi's demonetization programme -- announced on November 8, 2016 -- fresh ammunition because, if it were true, it could lead to all kinds of collateral damage.
A whisky-lover, for example, would find himself tracked down by his broom-wielding wife who would know which watering hole he had been at all evening, thanks to a new app called CashCheck.
The memsahib at home who sent her driver to collect her silk sari from the tailor across town would haul up her charioteer who had dropped in on his girlfriend en route: the chip would help her keep tabs on the car thanks to another rival app called Eye in the Sky (its creator named it after a recent movie of the same name because he had no time to think). But, mercifully, this turned out to be a rumour and sighs of relief were heaved across all sections of society.
The other rumour that quickly died was the one about language errors, but one that really gained ground was that the new currency notes ran colour. This led to a whole new definition of 'money laundering' as people tried everything from hand-washing to machines, from detergents to soap cakes.
While money had hitherto been classified as either black or white, a third category was emerging: pink.
Videos went viral and it reached such proportions that the Supreme Court had to step in and scold a lawyer, ML Sharma, part of a group of petitioners who had asked India's top court to reverse the ban on Rs. 500 and Rs. 1,000 notes: "Well, don't put notes in water," was Chief Justice TS Thakur's simple yet scathing advice to the lawyer, as they washed their hands off the whole thing.
While fake 2000-rupee notes have also emerged, those who have been lucky enough to lay their hands on the rare, but real, thing are busy posting selfies on social media.
"Me and my new bestie" said one such post; another simply expressed her dilemma: "To spend or not 2(000) spend, that is the question".
However, while the Government and banks are still grappling with the shortage of cash and long queues outside starved ATMs, what could really lead to egg on the RBI's face is the lurking suspicion that the new notes may not be one hundred per cent vegetarian.
A recent report that the Bank of England's new £5 note has animal fat in it has led to an online petition by vegans demanding its withdrawal there. In India, too, there have been past instances of tallow in soaps but if the new 2000-rupee note does have even an iota of animal fat, like its British counterpart, the consequences can be chaotic.
Devout Hindus will immediately start washing their hands multiple times and while this could lead to a spurt in sales of soap and sanitisers, it will also accelerate the Swacch Bharat campaign.
A survey by the Registrar General of India states that the percentage of vegetarians in India has increased from 25% in 2004, to 29% in 2014: this, strangely, coincides with the BJP winning the Lok Sabha elections that year. Not surprisingly, Rajasthan has the highest share of vegetarians at almost 75% while Telengana is the lowest at 1%: this could lead to a new pipeline of the Rs 2000 notes being channeled from one state that rejects it to another that relishes it.
West Bengal is also high on the list of non-vegetarians and it may not be long before Chief Minister Mamata Banerjee sets up a 'Welcome Rs2000' desk at Kolkata's airports and railway stations. Even the roll-sellers on the city's pavements are thinking of adding a part of the currency note to their legendary chicken-egg rolls, for a premium. This might then be called 'Double Chicken, Double Egg, Double Thousand Roll'. Burp!
But the bigger problem likely to be faced is among full-time and part-time vegetarians: the latter are those who do darshan in the morning and disco at night, especially across North India where vegetarianism spikes on Tuesdays, leading to happier hours in bars and restaurants in a valiant attempt to entice meat and alcohol lovers. These people are unlikely to touch the new notes on certain auspicious dates.
Even grooms may not be seen with the 2000-rupee note garlands around their necks. Temples will also be in a quandary: should they accept the new 2000-rupee notes in their donation boxes or will these defile the sanctity of the place? Should they keep the cash box outside the gates and appoint a guard to watch over it?
Even regular meat-lovers, such as Muslims, are wondering if the animal fat is likely to be acceptable as per Islam, where pork is taboo. And if it is beef, then the term 'cash cow' gets a whole new meaning.
Cardiologists, however, are worried that red meat in the notes will make them unhealthy but are unsure if the whole thing is fishy. And a group of petitioners is likely to file an appeal demanding a red dot on the notes as a clear sign of their being non-veg.
The mind boggles but, as of now, these are all rumours. So, please do not try frying or grilling these Rs 2000 notes under any circumstances. Not even in olive oil.
Update:
At the Federal Bank branch of Taliparamba in Kannur, Kerala, a customer found one of the new Rs 2,000 notes (serial no. 456828) crumbling in his hand. This happened on December 13 and was reported in The Hindu. While the exact reason is not known yet, chances are the RBI is cooking the notes in a hurry to ensure they reach the banks fast enough. Some sceptics of the demonetisation allege that this is a clear sign of the crumbling economy.