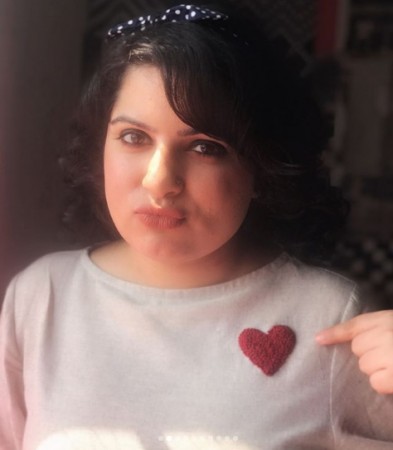 Comedian Mallika Dua, also popularly known as Tinder Aunty, is not someone who will take trolls lying down. And an "uncle" who asked why she doesn't wear bra learned it well.
Mallika shared an Instagram story of a chat, in which a man asked her "Why you don't wear bra all the time? [sic]" The 28-year-old, actor-comedienne gave him a fitting reply saying, "What does your wife feel about you staring at my tits? [sic]"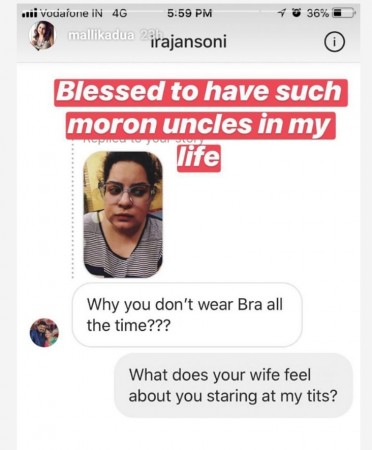 Some time ago, Mallika had taken a dig at Akshay Kumar's PadMan challenge that was going viral on social media. The challenge required people to hold a sanitary pad, click pictures and post on social media.
Mallika took to Instagram and mocked the trend. "Always remember. Each time you feel weak, each time you feel lesser than your equals, each time you feel you've been made to feel lesser for no reason and that the fight has just about begun, when you feel society and the govt have not given you your due, hold up a sanitary pad and post a picture of it on Instagram. You will feel empowered. So empowered. Bye." She had posted.
Realizing that she was being trolled on social media for the post, Mallika later made another post explaining her thoughts, and why she did not support the PadMan challenge trend.
"Preying tabloids would be disappointed to know that I wholeheartedly support the idea of a movie like PadMan and the fact that it is being helmed by a massive film star will attract a huge single screen audience. because that's the ONLY way cinema will help de-stigmatize menstruation for the masses that look at it as a hawwww thing," she had written.
Before this, Mallika had a controversial war with Akshay for one of his comments on her during a reality show.
Akshay on a funny note had said, "Mallika ji, aap bell bajaao, main aapko bajaata hoon" on the sets of The Great Indian Laughter Challenge.
Although Mallika did not react during the show, her father Vinod Dua had slammed the actor with a Facebook post. A lot was said and discussed on this eventually.