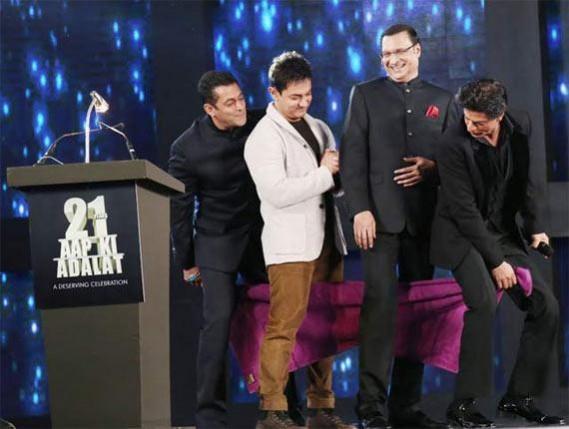 Second December remains as the epic day in the history of Indian cinema as it witnessed the three Khans - Salman, Shah Rukh and Aamir – shaking legs together for the first time. Rajat Sharma, who is the host of longest TV show "Aap Ki Adalat" (AKA), received wonderful gifts from the Khans for creating this historic moment.
"Aap Ki Adalat" is the longest running Indian talk show, which has completed a successful run of 21 years. The show has seen host Rajat Sharma grilling more than 500 celebrities from politics, cinema and various other fields. The makers of the show held a grand function to celebrate its huge success in Delhi on 2 December. They had invited a hosted of celebrities from different fields and the Khans were among them.
Salman, Shah Rukh and Aamir Khan, who have made it to the headlines for their fights several times, had often shied away from appearing together. The efforts of many from film industry and politics had gone in vein in the past. But interestingly, the Khans accepted Rajat Sharma's invitation and attended the event on Tuesday. It is not known what magic the host did to bring them together.
Now, "Aap Ki Adalat" host could not stop patting his back for creating this historic day. "We already told you that this will be the event that guarantees the three Khans under one roof and see we are proven right. While the event witnessed noted personalities for cinema, politics among other big industrialists, it was indeed the three Khans stealing the limelight all the way," reports India TV, which has aired the historic show.
Salman, Shah Rukh and Aamir Khan, who seemed to be excited to reunite on the historic moment of "Aap Ki Adalat", had great time at the function. They shook legs together with Rajat Sharma. Going a step ahead, Salman and Shah Rukh kissed the host the way they did it for Arpita Khan at her Sangeet ceremony. However, what thrilled Rajat Sharma the most was the surprise gifts of the Khans.
Rajat Sharma was reportedly on cloud nine as he received the gifts from the Khans. "First of all it was the "Chennai Express" actor Shah Rukh Khan who brought a 'lungi' for Rajat Sharma. Next was Salman Khan who gave a towel to the India TV Chairman. At last it was Aamir and guess what he had in store for Mr. Sharma. Well, it was his (in) famous transistor he wore for his upcoming "PK"," reports the India TV.
However, hundreds of celebrities including Prime Minister of India, Narendra Modi and President of India, Pranab Mukherjee witnessed the reunion of the Khans at the celebration of 21 years of "Aap Ki Adalat." The fans of the Khans will also get to see this moment as the event is scheduled to be aired on India TV and Star Plus on 7 December.