Angelina Jolie's Golden Globe Awards 2018 appearance has got tabloids busy. Several rumours about the diva have been circulating in the dark corners of the internet. Right from reports claiming Jolie asked her elder son Maddox to stay home and take care of Shiloh to her crushing on Chris Hemsworth.
To add to the long list of rumours, here's another one involving Brad Pitt himself. If the grapevine is to be believed, Pitt is reportedly furious with Jolie for taking their son, Pax, to the 75th Golden Globe Awards.
Also read: Maddox the new 'caretaker' of the house?
The tabloid claims that the actor is angry with his estranged wife as she did seek "his permission" before she decided to take the teenager to the glamorous event.
"Angelina went behind Brad's back and took Pax to the Golden Globes without the father's permission. Brad was furious that Angelina did not consult him before taking their son Pax to a major, adult event like the Golden Globes," a source claimed to the site.
Apparently, the actor is fuming because he wasn't informed about Jolie's Pax plan. "It irritated Brad that he found out, casually from the other children, at the last minute. Brad just wishes that he was kept in the loop for big decisions like award show appearances," the insider added.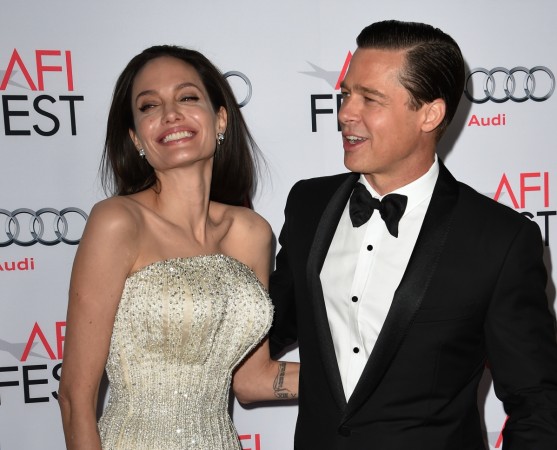 That's not all! The source also claimed, "Brad thinks it is not entirely healthy the way Angelina drags the kids everywhere she goes, so he made it clear to her after the award show that he would appreciate it that he be more informed of future major public appearances for their children."
While it is true that the actress has been spotted with her sons – Maddox and Pax more often off-late, Gossip Cop's sources clarify that Pitt wasn't furious about Pax's Golden Globe Awards attendance.
The site also clarified that this isn't the first "major, adult event" that the Brangelina kids were a part of. In the past, on several occasions, their children have accompanied them at big events, including Maddox's attendance at the Governor Awards 2013 and Pax, Maddox and Shiloh movie premieres.
Talking about Golden Globes 2018, Pax did look handsome in the black tuxedo walking with his mom. The youngster, who was also a part of the photography team in First They Killed My Father, got some heads turning when he graced the red carpet.