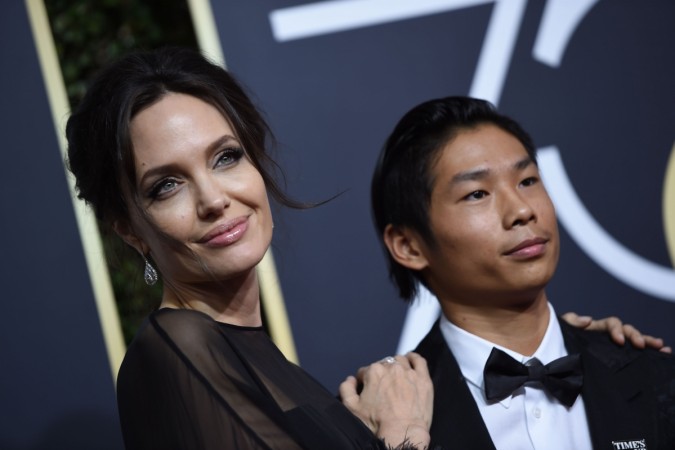 Angelina Jolie turned heads on Sunday evening when she graced the Golden Globe Awards 2018 red carpet following the black code. Brad Pitt's estranged wife's had two reasons to attend the 75th Golden Globe Awards event –her movie, First They Killed My Father was nominated for the prestigious award and she presented an award during the event.
The actress's date for the Golden Globes this year was her 14-year-old son Pax Jolie-Pitt. Entertainment Weekly reported that Pitt and Jolie's 11-year-old daughter Shiloh Jolie-Pitt suffered a broken collarbone during a family vacation in Lake Tahoe which explains her absence.
Also Read: Chris Hemsworth's reaction while Angelina Jolie ignored Jennifer Aniston
While many expected that Jolie would be seen accompanied with Maddox considering he played the executive producer of the Netflix movie nominated, Hollywood Life claims that Jolie wanted the 16-year-old to stay back home and take care of Shiloh.
Source told the site, "Maddox has taken on the role of caretaker in the family, and just like his mom, he's not a huge fan of awards shows and the red carpet, so he preferred to stay home and look after his little sister Shiloh rather than go to the Golden Globes with Angelina."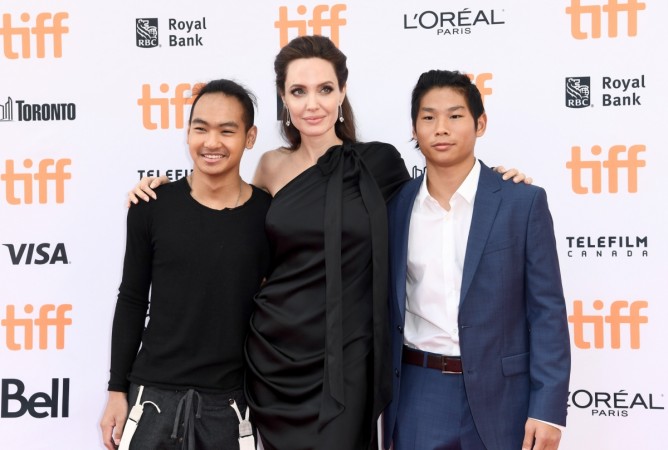 "Maddox has totally assumed the role of 'man of the house' since his mom and dad split. He's really stepped up to the plate and loves to take some of the pressure of looking after the younger kids off of the shoulders of his mom," the insider added.
The grapevine also added that since Pax is "much more naturally sociable and comfortable in the spotlight" Maddox chose to "allow his brother to bask in the spotlight." However, Gossip Cop calls out the celebrity website to report that the story is not true.
While the actress is yet to confirm the reason behind Maddox's absence, fans were glad that Jolie and Pax looked amazing at the event.
Jolie shared some memorable moments that became a highlight on the Twitter. The most viral moment was when she ignored Jennifer Aniston, who was on stage presenting an award, and focused on eating her snacks.
The internet also exploded when Thor actor Chris Hemsworth and Jolie were seen in the same screen. The duo looked unbelievably amazing together that many Golden Globe Awards viewers confused the Aussie actor to Brad Pitt.
Many called out the Marvel actor as Pitt's younger version and the actor's doppelganger.