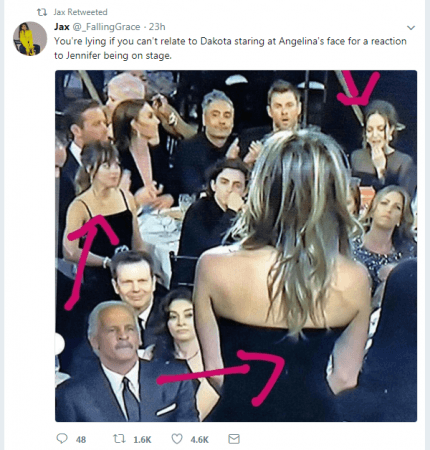 Twitter lost it when an eagle eye fan pointed out that Dakota Johnson might have peeped at Angeline Jolie from the corner of her eyes when Jennifer Aniston took the stage to present an award at the recently concluded Golden Globe Awards 2018.
While this was an epic moment for the internet – considering the two of Brad Pitt exes where under the same roof after the 2015 Critics Choice Awards – there was more to the viral picture than the three actresses. Thor actor Chris Hemsworth's reaction to the Friends alum on stage also grabbed Twitter attention.
Also Read: Golden Globe Awards 2018 winners list
The actor, who was seated beside Jolie, was caught on camera with a jaw-dropped expression. While it is unclear if he was stunned by Aniston's beauty on stage (like who wouldn't) or was he just surprised by Carol Burnett's presence, his priceless reaction won the internet.
"I think @chrishemsworth expression is even better than Dakota Fanning!! Love you Chris!" pointed out a user. "#ChrisHemsworth looking at Jennifer Aniston while Dakota Fanning is checking out Angelina Jolie! It doesn't get much better than this!" added another.
The picture went viral because a fan noticed Jolie diverting all her attention to the snacks placed on the table while Aniston and Carol Burnett went to present Best Performance by an Actress in a Television Series - Musical or Comedy.
Fifty Shades actress Johnson's reactions got the internet buzzing. The 28-year-old star eagle-eyed Jolie, who was seated next to Thor: Ragnarok director Taika Waititi and actor Chris Hemsworth to subtly catch her reaction to Aniston on stage.
A Twitter user managed to get a screenshot of the moment and it did not take too long for the tweet to go viral. "This picture of Dakota Johnson sneaking a glance at Angelina Jolie while Jennifer Aniston presents needs to be put in the Met," a Twitter user wrote.