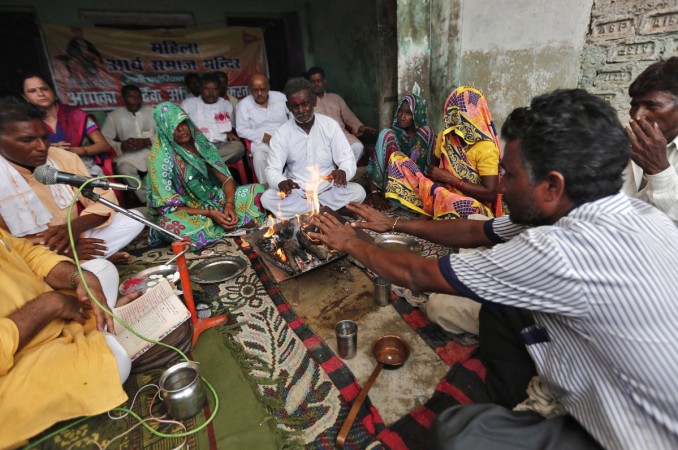 The West Bengal police on Thursday registered cases against VHP leaders Pravin Togadia and Jugal Kishore for making hate speeches in Birbhum district, a day after reports alleged that the Hindu outfit organised a "ghar wapsi" programme in which about tribal Christians "pledged to follow Hinduism."
"We have received two complaints against Pravin Togadia and Jugal Kishore for their alleged hate speeches at Rampurhat and at Kharmadanga village in Birbhum. We have lodged two cases. We have started an investigation," Rampurhat SDPO Jobi Thomas told PTI.
The Hindu outfit denied there was any "ghar vapsi" on that day.
Thomas said the cases were filed under three non-bailable sections, including 153-153A, 298 and 505 (2) and one under bailable section 295 of Indian Penal Code. The complaints were filed at Rampurhat police station by two residents of Birbhum district – Bhim Murmu and Ukil Mardi.
Murmu in his complaint alleged that during the Wednesday's event in Rampurhat, Togadia and Kishore delivered provocative speeches that potentially disturbed communal harmony.
"The Muslim population has been rising, while the Hindu population is declining. If this trend continues, West Bengal will soon become part of Bangladesh," The Hindu quoted Togadia as having said.
So far no complaint has been registered against the conversion event. However, tribal rights association – Birbhum Adivasi Gaota (BAG) – having 2 lakh members, said it will launch a protest against the conversion.
"On Monday and Tuesday, we will submit a memorandum to the district administration..., urging it to stop such conversions to maintain peace and harmony," said BAG convener Sunil Soren.
He said that their initial investigation into the incident has revealed that the tribals were lured to convert to Hinduism in exchange for job and government assistance.
"Tribal people were told that they would be given jobs and assistance under the Central government schemes, which lured many... It amounts to coercion," said Soren.