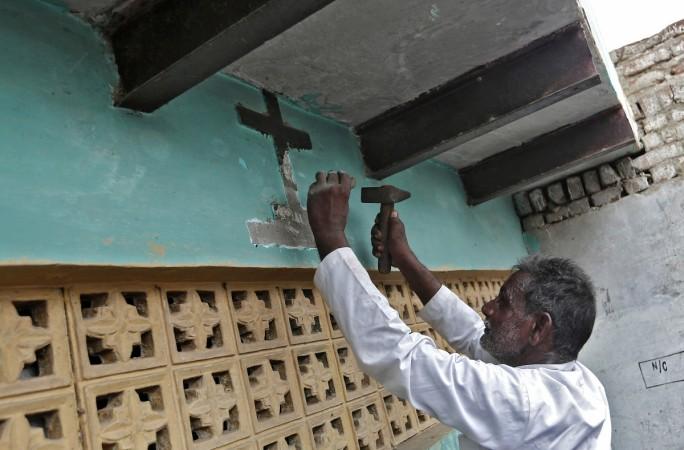 Hindu outfit Vishwa Hindu Parishad (VHP) on Sunday claimed to have "re-converted" 30 Christians in Kerala's Alappuzha district and said that 150 more families would be "re-converted" in different ghar wapsi (home coming) ceremonies in Wayanad and Palakkad districts until Christmas.
"Thirty people wanted to come back to their roots. Neither money nor favours were granted for their home-coming," Hindustan Times quoted VHP district president G Prathap as saying.
Also, at an event in Bhopal on Sunday, VHP leader Praveen Togadia declared that they will protect Hindus and won't let their population decline.
The Kerala conversions come a day after 225 Christians were "re-converted" in Gujarat.
While the party is holding mass re-conversion events in different parts of the country, Togadia blamed Christians and Muslims for forced conversions. He claimed that forced conversion to Christianity and Islam has left Hindu community to feel unsafe.
"We want to protect Hindus today and 1,000 years from now. We won't let their population decline from 82 percent to 42 percent because then their property and women will not remain safe," The Indian Express quoted Togadia as saying at a convention organised to celebrate VHP's golden jubilee year celebrations in Bhopal.
He claimed that this has left Hindus with no respect in their own country. He also alleged that "love jihad" was a conspiracy against Hindus.
"Haj travel gets a subsidy of ₹ 22,000. Do you get a subsidy for travelling to Mahakal? What is your value? Zero. When one Hindu is converted and one cow is slaughtered it means Hindus have no respect in the country," said Togadia.
In the same event, another speaker claimed that it was Muslims who introduced the caste system in the Indian society and not Hindus. He said untouchability was never practised before Muslims invaded India.
He claimed that the Hindus accepted to be recognised as untouchables rather than converting to Hinduism.
"While very few chose to convert willingly when forced by Islamists, many were slaughtered for refusing to change their faith but most accepted the humiliation of cleaning the invaders' excreta than to convert to Islam," the speaker said.
Amid all the accusations, another speaker, a former RSS pracharak and VHP organising secretary Dinesh Chandra, said India belongs to Hindus.
"Hum Hindu hain, Hindustan hamara hai. Hum yahanke malik hai (We are Hindus, Hindustan belongs to us, we own the country). We have been living here for thousands of years unlike the followers of Islam and Christianity," said Chandra.