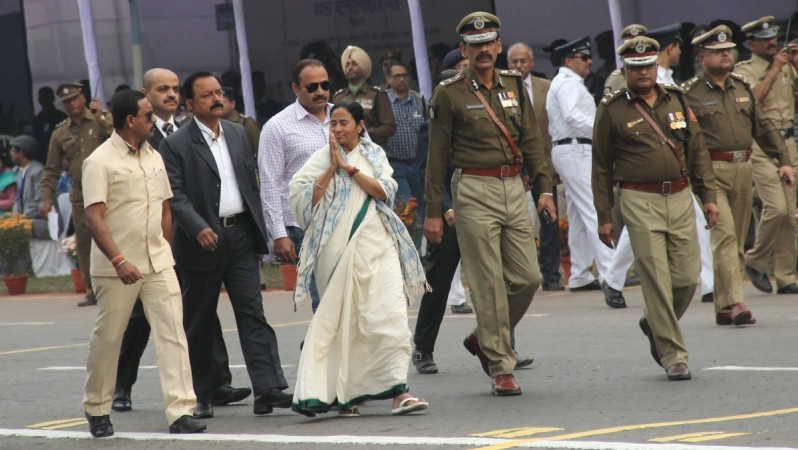 The Trinamool Congress has been facing backlash from the Opposition parties since the beginning of this year. First it was Malda riots, and now its the arrest of a man over a Facebook post against a party councillor in West Bengal's Jalpaiguri district. All this comes ahead the Assembly elections scheduled to take place in the state this year.
Trinamool councillor Pulin Golder filed a complaint against one Rohit Passi who reportedly wrote on Facebook on Friday about a court hearing into the alleged murder of his friend by a local Trinamool worker. Passi reportedly claimed he saw Golder with the parents of the accused in court, an act he referred to as "shameful".
"Today I saw a local Malbazar leader at the court. Not sure, if we can call him a leader or an actor. One who is such an expert in switching political loyalties. He was escorting the accused's parents in his own car. Such people call themselves leaders. They never felt the urge to stand beside the victim's family but are keen to stand by the accused in court. This is such a shame for our society. We won't tolerate any politics over death," India Today cited Passi's post.
Passi, 34, was arrested on Friday, but he was freed on Saturday after securing bail and paying a bond of Rs 2,000, Hindustan Times reports.
Although Passi claimed his arrest was linked to his Facebook post, district police and Trinamool spokesperson and Rajya Sabha member Derek O'Brien said he was arrested under CrPC Section 107 [which deals with preventive detention].
"This is not connected to the Facebook post. He was arrested under CrPC Section 107 to maintain peace and tranquillity in the area," India Today quoted Jalpaiguri Superintendent of Police Akash Magharia as saying.
"Some local channels are distorting news without checking facts. Deliberate distortion? No one in has been arrested for a Facebook post," O'Brien said.
Opposition CPM criticised the Trinamool for the arrest. "The incident of cartoon-arrest repeats itself. #RohitPashi arrested for speaking against d autocratic CM!! Its a complete reign of terror!!! (sic)" CPM state secretary Surjya Kanta Mishra said in a tweet.
Trinamool leader allegedly assaults college principal
TMC on Saturday expelled councillor Basir Ahmed alias Badshah after the principal of Burdwan Raj College filed a complaint alleging he was assaulted by Ahmed, who denied the accusation.
In the complaint, principal Tarakeshwar Mondal said Ahmed slapped him, punched him, pinned him to the ground, kicked him and threatened him with a gun, PTI quoted the police as saying.
Mondal withdrew his complaint later, saying they have sorted out the matter. However, Ahmed has reportedly been absconding.
The TMC's students' wing, called the Chhatra Parishad, on Saturday protested against the assault of the principal outside the Burdwan police station.