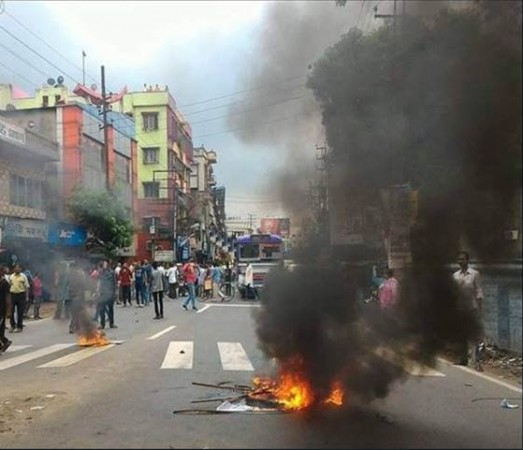 "If the Trinamool Congress believes that it will silence the governor by abusing him, it is making a mistake. Keshri Nath Tripathi is a soldier of Narendra Modi's army."
The statement made by BJP's national secretary and the former party chief in West Bengal Rahul Sinha before the media has added more fuel to the controversy which started after West Bengal Chief Minister Mamata Banerjee had a heated conversation with the state's governor Tripathi a few days ago in the wake of communal violence in many areas of North 24 Parganas district.
The CM had an outburst in the media after the telephonic conversation with the governor accusing the latter of threatening her. The Raj Bhavan later hit back at the CM saying the governor was doing his duty of reminding the government of its administrative responsibility. The CM said that the governor was speaking like a "BJP block president", drawing ire of the saffron party.
Now, the former BJP chief of the state will leave his party uncomfortable. BJP general secretary and the party's observer for Bengal Kailash Vijayvargiya later tried to control the damage saying he was not in agreement with Sinha, reported ABP Ananda. He said the governor's position is apolitical and he was doing a good job in his capacity.
The cat is out of the bag, mocks TMC
The ruling Trinamool Congress (TMC), however, wasted no time to attack the BJP. Senior TMC leader and state minister Partha Chatterjee mocked Sinha as a foolish lieutenant of a party of fools.
"The cat is out the bag finally. We have been saying for a long time that the Raj Bhavan has turned into a BJP office. The governor is associated with the BJP's activities. Chief Minister Mamata Banerjee is trying to promote harmony but some people are trying to disrupt it. By doing divisive politics, the mission to see lotus blooming here will never succeed," Banerjee said.
Communal violence spread in Basirhat area in North 24 Parganas after a youngster posted a Facebook post. One person, allegedly a BJP supporter, died in the hospital after getting injured in the violence. More people were injured and a lot of property, including police vehicles, was destroyed.