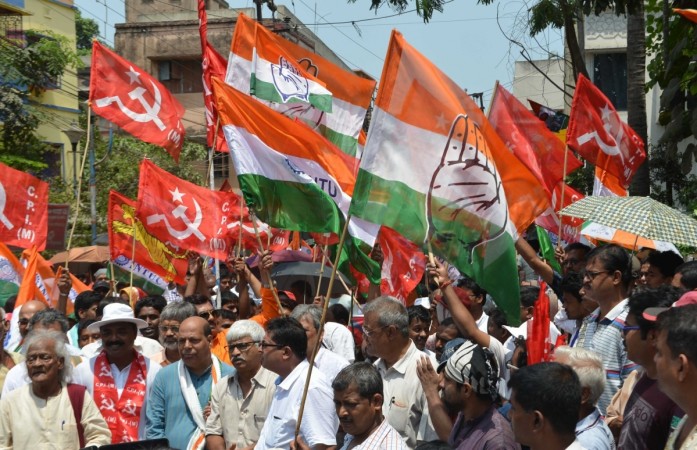 UPDATE: 9:44 p.m. — A Communist Party of India (Marxist) worker was reportedly killed on Thursday when violence broke out during the third phase of West Bengal Assembly elections in Murshidabad's Domkal constituency, the Hindu reported.
Another incident was reported from Gayeshpur town in Nadia district where TMC workers allegedly assaulted two CPI(M) polling agents.
Original Story —
The third phase of the West Bengal Assembly elections began on Thursday morning for 62 seats in four districts. As many as 1 lakh security personnel, including 75,000 central forces have been deployed in the areas to ensure law and order is maintained, the Press Trust of India reported.
Polling started at 7 a.m. at nearly 16,461 polling booths set up across constituencies in Nadia, Burdwan, north Kolkata and Murshidabad districts, Indo-Asian News Service reported. As many as 1,37,42,000 (over 1.37 crore) electorates are expected to exercise their voting rights.
A total of 22 constituencies in Murshidabad, 17 in Nadia, 16 in Burdwan and seven in north Kolkata have gone to polls on Thursday. Voting in all the districts will end at 6 p.m.
Additional security has been added in 3,401 hamlets that have been found vulnerable by the Election Commission. Action has reportedly been taken against 4,094 people, who were suspected to create trouble during the voting.
A total of 418 candidates, including 70 independents and 34 female, from the Congress, CPI(M), the BJP and Trinamool Congress, are in fray for the 2016 Assembly elections. The Congress and CPI(M) have forged an alliance for the the Assembly polls. The BJP and TMC have fielded their candidates for all the 62 seats.
Of all the 418 candidates contesting the polls, 80 face criminal cases, of which 65 face serious charges such as of rape, murder, attempt to murder and crimes against women. CPI(M) candidate Bamacharan Banerjee, who is contesting from Bhatar constituency, faces rape charges.
Besides, at least 61 candidates have declared assets of above Rs. 1 crore. BJP leader Somabrata Mandal from Shyampukur in north Kolkata tops the list with assets worth above Rs. 28 crore.
The Assembly elections in West Bengal started on April 4 with the first part of the first phase, and the second part being held on April 11. The second phase was held on April 17 and the fourth, fifth and sixth phases will be held on April 25, 30 and May 5, respectively.
Vote counting will start on May 19 and all the procedures related to the elections will be completed by May 21, the Election Commission of India had said.