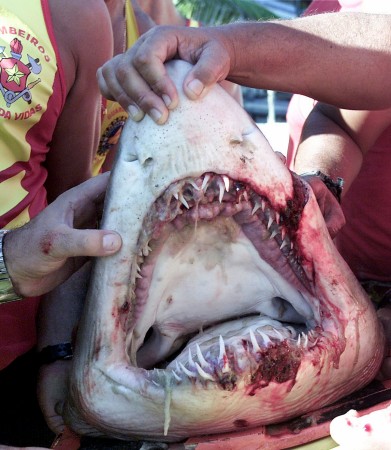 A teenager from West Australia shot a spear gun in the mouth of a large white shark that killed his friend to escape the same fate.
Seventeen-year-old Jay Muscat was attacked by the white pointer at Cheynes beach, a protected cove near Albany on Monday. The boy was dead by the time the police reached the location, revealed The Australian. Department of Fisheries assistant director-general Rick Fletcher revealed that the shark under question was about 4m to 5m long and a white one, based on the reports from witnesses at the scene and the bite marks in the dead teen's body.
"It appears that the shark swam past one diver and bit the other on the leg, which resulted in fatal injuries to the diver," Fletcher said.
The shark, which reportedly turned to Matt Pullella, Muscat's friend after attacking him, was shot in the mouth by Pullella's spear gun. The bereaved teen took to Facebook, to elaborate on what actually happened and to pay tribute to his friend: "The shark came in, attacked (Matt), he pushed it away. Then the shark went for Jay, attacked him then came back for Matt," he said. "As the shark came back for Matt, he pushed the spear gun down its mouth and then pulled the trigger."
A diver who is acquainted with the two spear fishermen through the West Australia Undersea Albany diving group, described Muscat as a "young, fun and happy guy" who had only started diving with the group in the past year. He said that although the people on board a passing boat had pulled Jay into their vessel, he was dead before the boat reached the shore.
The department has closed the beaches in the area and is urging locals and tourists to stay out of the water.