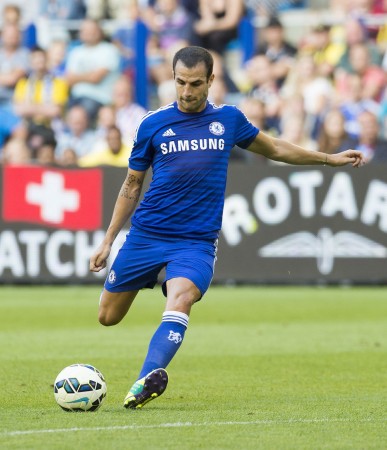 Arsenal boss Arsene Wenger has urged the Gunners' fans to show respect to Cesc Fabregas on his visit to the Emirates stadium for the first time in Chelsea colours on Sunday.
The Spaniard left the Gunners to join his boyhood side Barcelona for a reported €29 million in the summer of 2011 after spending eight years at Arsenal.
The North London club did a buy-back option on the 27-year-old when he was being tipped to leave Barcelona last season, but Wenger decided not to exercise that option and the Spaniard ended up completing a £30m switch to rivals Chelsea last summer instead.
Not re-signing Fabregas proved to be a big mistake on Arsenal's part as he has been in excellent form at Chelsea this season, playing a big role in the Blues' push for the Premier League title this season.
Arsenal fans have not been too happy with Fabregas' move to the West London, but Wenger insists that the Spaniard needs to be respected when he returns to the Emirates on Sunday
"I want every player to be respected and Cesc Fàbregas, when he comes to the Emirates on Sunday, to be respected like he deserves," the Frenchman told the Guardian.
It is still a very big mystery why Arsenal did not exercise their buy-back option on Fabregas last summer, and Wenger still refuses to throw light into that matter.
"We will have to discuss that one day," Wenger added. "With all the terms ... it's not as clean as that. I cannot speak to you about that now because that will not help us to win the game on Sunday."
However, he admits that he was very disappointed after Fabregas asked to leave Arsenal in 2011.
"The regret I have is that Cesc wanted to leave here," Wenger said. "This club and myself had a very positive influence on Cesc's life, so I would be a bit uncomfortable to have to justify today why he is not here. I believe I would rather it was the other way around."