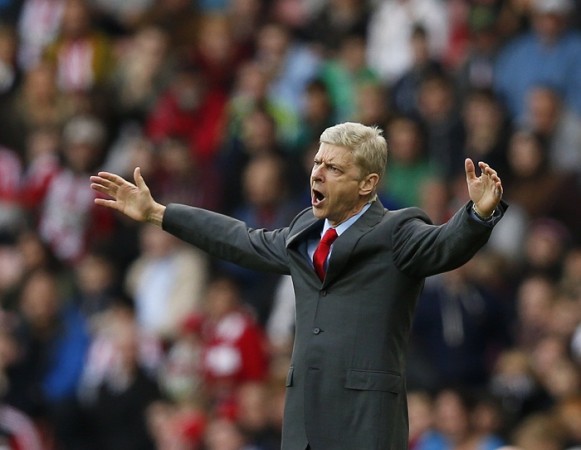 Arsenal manager Arsene Wenger says that he is "surprised" to see two high profile fixtures – Chelsea Premier League clash against Manchester United and the Gunners' FA Cup semi-final showdown against Reading – being scheduled on the same day this weekend.
The Gunners face Reading in the FA Cup semi-final at 5.20 pm BST (9.50 pm IST) on Saturday, while Chelsea take on United 10 minutes later at 5.30 pm BST (10 pm IST).
Although the tickets for both these games have been sold out, Wenger feels that these two high profile games should have been scheduled on different days.
"I am a bit surprised that a [Premier League] game of the same stature is played at the same time. There is a bit of conflict there that is difficult to understand," said Wenger ahead of his side's clash against Reading, according to ESPN.
While BBC will telecast the Arsenal-Reading game, Sky Sports will be showing the Premier League clash between Manchester United and Chelsea.
Although Arsenal and Reading fans will be watching the FA Cup game, all the other viewers will probably be more interested in seeing the Chelsea-Manchester United clash as it is a more exciting encounter.
And Wenger says that he is surprised that the broadcasters did not take this into consideration.
"I am surprised that they did not analyse that in television deals because basically what happens there, it is something that should have been planned, that two television channels who pay a lot of money for football have conflicted interests in promoting games. That inside the country shouldn't happen," added the Frenchman.
"You would like it [FA Cup] to be the unique competition that is played, especially a semifinal and a final, you would want it not to conflict with other competitions."
Meanwhile, Wenger says he is counting on United to beat Chelsea on Saturday as the Blues' defeat will be giving the Gunners the chance to compete for the Premier League title.
"Mathematically yes [defeat for Chelsea would open up the title race again], but we have to win our games. That is all we can do," Wenger added.