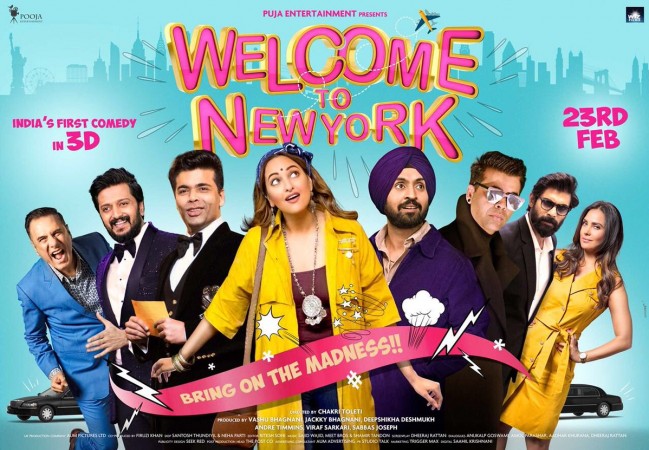 Welcome To New York, an out-and-out comedy, which released in theatres on Friday, February 23, has received mixed reviews from the critics.
Starring an ensemble cast of Karan Johar, Ritesh Deshmukh, Diljit Dosanjh, Lara Dutta, Boman Irani, Rana Dagubatti and Sonakshi Sinha, the film also has Salman Khan, Sushant Singh Rajput and many other B-Town celebs making special appearances.
While a few critics lauded Diljit and Riteish's comic timings and the cast's performances, others found the movie too boring.
Welcome To New York is a heartfelt, rib-tickling comedy that tells the story of two Indian youths in search of a better life. An unexpected trip to New York City and IIFA Awards sets them off on a comedic adventure that changes their lives forever.
Produced by Pooja Films and Wiz Films and directed by Chakri Toleti, Welcome To New York is set to be India's first comedy 3D film. Karan is trying his hand at acting once, and he will be seen in a double role. Sonakshi plays the role of Jeenal who aspires to become a famous fashion designer while Diljit essays the role of Teji and is a struggling actor. Lara's character has shades of grey.
Check out the critics review of Welcome To New York:
Taran Adarsh tweeted: "Karan Johar is toooo funny in this quirky comedy #WelcomeToNewYork, while Diljit Dosanjh and Riteish Deshmukh's comic timing is noteworthy... Boasts of some LOL moments and crazy one-liners... Salman, Katrina, Rana Daggubati, Sushant Singh Rajput add to the glam quotient... #WTNY"
Rohit Bhatnagar of Deccan Chronicle said: "The film is a torturous endorsement of IIFA. The only question popping up in your mind is, 'What is it?' Is it a film or a fancy documentary on IIFA Awards in New York. Enter the theatre at your own risk or at least carry a punching bag along with you if you are unfortunate to see it. The most annoying part of the film is Karan Johar's double role. Dijlit Dosanjh is average, and Sonakshi Sihna is a total waste especially when she has a good screen time amidst the whole jing bang."
Kunal Guha of Mumbai Mirror said: "There are several points when one is forced to wonder the objective of making this film. That Diljit Dosanjh is a powerhouse of talent is more evident here than in any other film since he manages to extend dignity to his character even when he has very little to go by. Karan Johar may not be the best actor in this cast, but his parts are surely the most watchable."
Devesh Sharma of Filmfare said: "All-in-all, Welcome To New York is more a series of comedy skits stuck loosely together than an actual film with a coherent plot and screenplay. It's a fresh idea alright and better execution would have turned it into an eminently enjoyable film. That said, we reiterate that it's seldom that the film industry agrees to laugh at itself and the film should be appreciated for that fact alone."
Lasyapriya Sundaram of the Times of India said: "The laughs are few and far between and most scenes and dialogues which manage to tickle the funny bone involve Karan and Riteish. The biggest let-down is the script and the various tracks in the narrative don't always come together as a whole and seem contrived."
Stay tuned for more updates