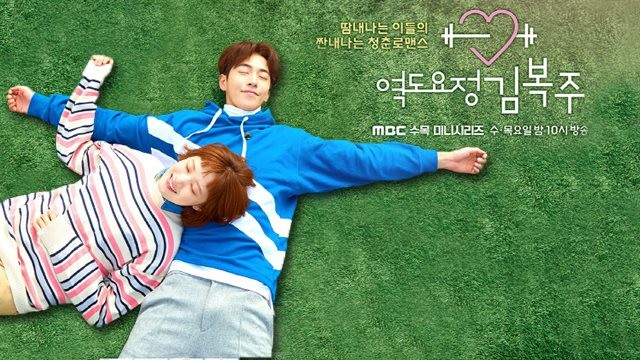 Weightlifting Fairy Kim Bok Joo finally concluded the story of Jung Joon-hyung and his childhood friend with episode 16 and the fans are eagerly waiting for an official announcement from MBC on season 2.
Chinese New Year 2017: Will the year of the Rooster be lucky for Jun Ji Hyun, Park Bo Gum and other Korean stars?
The finale was filled with several twists and turns for the onscreen couple. It took its viewers through a roller-coaster of events with Kim Chang-gul's surgery, Jo Tae-kwon's secret crush on Lee Seon-ok and Kim Bok-joo's international weightlifting competition.
Episode 16 of the Korean mini-series began with a scene from Taereung National Training centre and featured a telephonic conversation between the swimmer and his lover. Later on, it focused on how a misunderstanding created problems between the lead characters.
The romantic comedy drama wrapped up by featuring a happy ending for the onscreen couple and their loved ones, including Jung Nan-hee, Jung Jae-yi, Song Shi-ho, Yoon Deok-man, Choi Sung-eun and Go Ah-young.
Although the period drama failed to top the viewership rating charts, it managed to garner a large number of followers from across the globe. The show began with a 3.3 percent nationwide rating and received an average of 4.6 percent ratings during its 16 episode run.
The main reason for the low television ratings is believed to be the popularity of SBS show The Legend Of The Blue Sea. Both the mini-series aired at the same time and the Lee Min Ho starrer drama continues to top the rating charts.
Since the viewership ratings are considered as the primary element for the renewal or cancellation of a television show, MBC might not renew Weightlifting Fairy Kim Bok Joo for season 2. Additionally, some of the lead cast members, including Lee Sung-kyung and Kyung Soo-jin, have already announced their next projects.
Both the female leads of the Korean mini-series will be busy filming and promoting their upcoming movies. While Lee Sung-kyung will appearing in the upcoming legal thriller titled Broker, Kyung Soo-jin will be preparing for her comeback to the big screen with an upcoming movie.