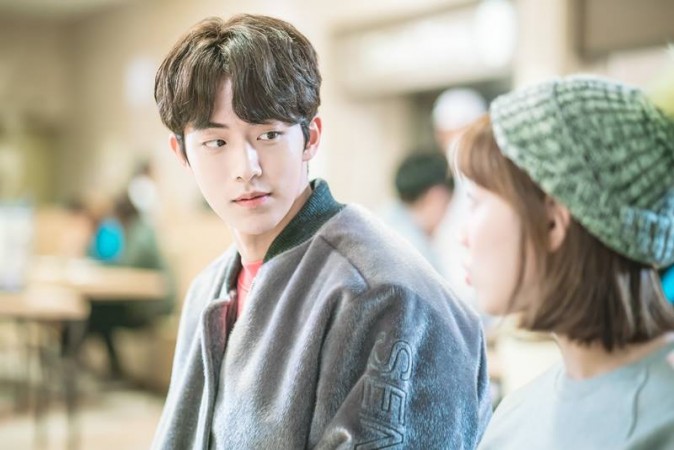 Weightlifting Fairy Kim Bok joo creators might conclude the series with a break-up for Nam Joo-hyuk's character Jung Joon-hyung in episode 16. The finale is scheduled to air on MBC next Wednesday, January 11, at 10pm KST.
Watch Weightlifting Fairy Kim Bok joo episode 15 live online
Everything was really smooth between the onscreen couple until the swimmer came to know that his biological mother returned to Korea for money. He was shocked to hear about it from Jung Jae-yi and his parents.
Although his relatives tried their best to make him understand that Kim Jung-yeon really loves him, the male lead walks out of the house. In the meantime, Kim Bok-joo gets selected for special training at Taereung National Training Center in China.
However, the female protagonist does not really enjoy her victory as she becomes worried about her lover. She searches for him everywhere and finally finds him at the Indoor Swimming Pool of Hanwool College.
The weightlifter helps Joon-hyung to recover from the trauma and encourages him to work hard to get selected in the national team. Towards the end of the episode, they part ways in good terms and promise each other to be faithful in their relationship.
However, things are likely to turn for the worse in episode 16. The promo for Weightlifting Fairy Kim Bok joo finale hints at a break-up between the onscreen couple. It shows Jo Tae-kwon creating a misunderstanding between the two protagonists.
In the sneak peek video, Ji Il-joo's character informs the female lead that her lover had gone out for a date. It makes her furious and she starts ignoring him. "I guess men are all the same. Joon Hyung has changed too," she tells her friends.
Will the onscreen couple get their happy ending in the upcoming episode? The fans will have to wait until January 11 to find out more about it. Till then, they can watch the previous episodes online here.
Meanwhile, the official trailer of the finale features a reunion between Jung Jae-yi and Go Ah-young. While the female doctor tells her friend that she moved out from Seoul to ignore him, he replies, "I hate Seoul without you in it. It's too lonely."
Watch the promo of Weightlifting Fairy Kim Bok joo episode 16 below: