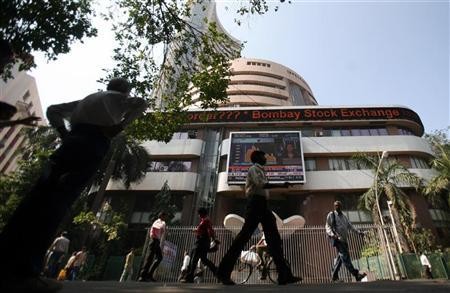 The BSE Sensex climbed in the week as investor confidence was lifted with the lower and upper houses of parliament voting in favour of foreign direct investment in multi-brand retail.
The Sensex was up 0.4 percent and closed at 19424.10. Investors were focusing on the crucial vote in the parliament on whether to allow 51 percent foreign investment in the retail sector.
Market participants cheered on Wednesday as the motion that sought withdrawal of FDI in multi-brand retail was defeated in the Lok Sabha. On Friday, the ruling coalition got the majority in the Rajya Sabha with the Bahujan Samaj Party supporting the government on FDI vote. The outcome of this week's proceedings is considered a major step to make sure more economic reform policies can be introduced by the government to revive the growth momentum.
Meanwhile, investors faced some worries amid the revival of the concerns about the debt crisis affecting the euro zone. On Thursday, the European Central Bank gave the forecast that the euro zone economy would fall 0.5 percent this year and 0.3 percent in 2013.
Investors were also focusing on whether the U.S. Congress would reach a deal to avert the fiscal cliff. Market players worry that unless the Congress acts, the scheduled rise in tax rates and spending cuts will plunge the economy into recession early next year.
On the data front, China's manufacturing and service activity expanded in November, giving the indication that the world's second-largest economy was reviving its growth momentum.
China's manufacturing activity expanded to a thirteen-month high in November, according to the HSBC Purchasing Managers' Index (PMI) released Monday. The final reading of the PMI, a measure of the nationwide manufacturing activity, rose to 50.5 in November compared to 49.5 in October. Also reading of the HSBC China Services PMI, a measure of the nationwide service activity, rose to 52.1 in November compared to 53.5 in October.
Meanwhile, the Asian Development Bank slightly lowered the 2012 and 2013 growth forecasts for developing Asia, citing the persisting weakness in the Indian economy and slowdown in the East Asian economies.
According to the Asian Development Outlook released on Friday by the ADB, developing Asia is expected to grow 6.0 percent in 2012 and 6.6 percent in 2013, down by 0.1 percent.
The ADB has concerns about India with its growth forecast lowered to 5.4 percent from 5.6 percent in fiscal year 2012 and to 6.5 percent from 6.7 percent in FY2013. India's industrial output fell in September compared to that in the same month last year, indicating that the country's economy is under pressure.
Major gainers: Shares of State Bank of India gained 6.49 percent. Shares of ICICI Bank advanced 2.94 percent and those of Tata Power rose 2 percent.