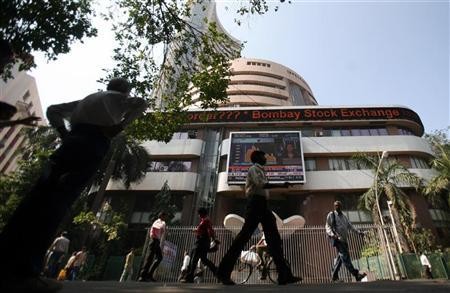 Indian stock markets fell in the week as investors remained watchful waiting for policymakers to announce stimulus measures to revive the economy and rejuvenate the growth momentum.
The BSE Sensex fell 0.4 percent for the week and closed at 19317.25. Nifty also dropped 0.4 percent and closed at 5879.60 points.
Investors remained cautious though the country's industrial output surged in October much better than expected. According to the data released Wednesday by the Ministry of Statistics and Programme Implementation, India's industrial production, which measures the change in the total inflation-adjusted value of output produced by manufacturers, mines, and utilities, climbed to 8.2 percent in October from a 0.7 percent decrease in September.
According to the data released Friday by the Ministry of Commerce & Industry, India's Wholesale Price Index, which measures the change in the price of goods sold by wholesalers, dropped to 7.24 percent in November from 7.45 percent in October.
The decreasing inflation should be good news because it can allow the government to invigorate growth without much concern about the rising prices. Moreover, instead of fighting inflation, the most urgent concern for India appears to be its pro-growth policy stance against the current uncertain global situation.
Market participants are looking forward to the Reserve Bank of India's policy meeting on December 18. Market players are calling for urgently policy easing measures from the central bank amid the growing concerns about the deteriorating growth prospects of the country's economy.
Investors were also focusing on whether the U.S. Congress will reach a deal to avert the fiscal cliff. Market players worry that unless the Congress acts, the scheduled rise in tax rates and spending cuts will plunge the economy into recession early next year.
Market players also have concerns of debt burden affecting the euro zone. Investors were concerned as Italian Prime Minister Monti said last week that he intended to resign after the budget for 2013 was approved. Meanwhile, on Thursday, European finance ministers reached an agreement to have a new supervisory mechanism for the euro zone banks which could mark an important step towards banking and eventually fiscal union.
Major Gainers: Shares of Bajaj Auto gained 7.25 percent. Shares of Jindal Steel advanced 5.14 percent and those of Tata Motors rose 3.58 percent.