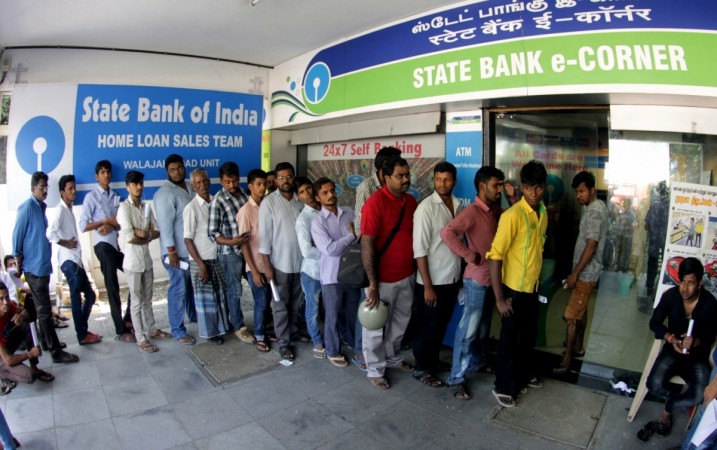 Indians seemed to be adjusting to a less-cash life gradually, as is evident from the fall in cash withdrawals after the crunch imposed by demonetisation and the shift towards digital modes of transactions. The complete removal of limits on cash withdrawals from the middle of last month has actually had an unexpected and interesting fallout.
"The decline in cash withdrawals is intriguing even as limits on withdrawals have been removed completely from March 13," Soumya Kanti Ghosh, Group Chief Economic Adviser, State Bank of India, wrote in the latest issue of Ecoflash dated April 3, 2017.
The weekly cash withdrawals seem to be declining after hitting a peak, ironically when the cash crunch was at its peak.
"Post demonetisation (i.e. after 30th Dec), cash withdrawal has been declining rapidly from a peak of Rs 528 billion (~ Rs 52,800 crore) for the week ended 13th Jan, to Rs 325 billion (Rs 32,500 crore for the week ended 24th March," Ghosh wrote.
With the new restriction of the ban on all cash transactions above Rs 2 lakh with effect from April 1, the withdrawals are expected to fall further.
Another significant trend during the demonetisation period reckoned as November 11, 2016 to March 17, 2017, is the contrast in bank deposits and credit (loans).
While credit growth rate hit a 63-year-old of 4.4 percent (12-month period ending March 17), deposits grew at 13 percent.
The surge in deposits was mainly due to demonetisation that forced people to prise open their cash chests.
The biggest suspense, however, remains as to how much of the demonetised cash has returned to the banking system, now that almost all options for people has closed.
Only NRIs have the opportunity of depositing the banned notes, till June 30, 2017, at designated RBI offices.
Meanwhile, stock markets opened April trading on a high note, with the 50-scrip NSE Nifty closing at an all-time high of 9,237, after gaining 64 points. The BSE Sensex closed 290 points higher at 29,910.
"Positive global cues, FIIs and DIIs buying interest, hope of GST implementation and stable Oil price, strong rupee boosted market sentiment. Auto stocks were lackluster today while Auto monthly sales volumes of Maruti, Tata Motors, Bajaj Auto reported lower than street estimates," brokerage Motilal Oswal Securities said in a note.
Top Sensex gainers were Larsen & Toubro, Dr Reddy's Labs, Reliance Industries and ICICI Bank.
Foreign institutional investors (FIIs/FPIs) were net buyers of Indian equities worth Rs 534 crore, according to provisional data released by the National Stock Exchange.