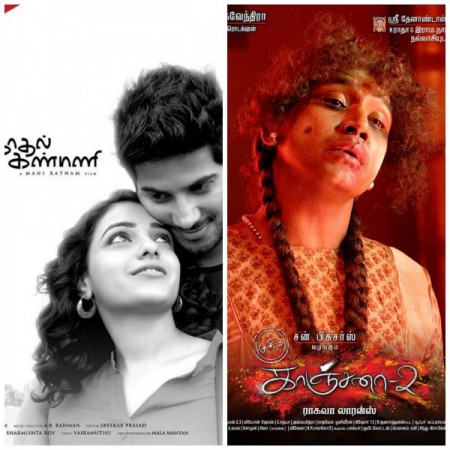 The weekend box office collection of Tamil movies in Chennai is out and the reports suggest that most of the recent releases have managed to pull in a good number of viewers to the theatre.
According to popular Tamil movie website Behindwoods, Raghava Lawrence's latest flick "Kanchana 2" is leading in box office collection from 20-26 April in Chennai, followed by Mani Ratnam's "OK Kanmani".
Karthi's "Komban" and Udayanidhi Stalin's "Nanbenda" has managed to grab the third and fourth positions, respectively.
The second weekend collection of "Kanchana 2" is estimated to be ₹ 1,30,12,872 from 282 shows and the weekday box office collection is ₹1,13,88,244 from 332 shows, making the total collection of the movie in the second week as ₹ 3,75,49,733.
With the kind of reception the movie has been getting so far, the industry analysts are hoping that "Kanchana 2" will be declared a blockbuster hit in the coming days.
At the same time, Mani Ratnam's "OK Kanmani" has also done extremely well in its second week in box office with total collection of ₹ 2,04,90,564. The movie had total of 236 shows in weekend and has managed to collect ₹ 56, 75, 174 and in the weekdays, the movie has made total collection of ₹56,785,176 from 236 shows in Chennai.
[Read 'OK Kanmani' (O Kadhal Kanmani) Movie Review: Mani Ratnam Gives New Definition for Classiness]
Meanwhile, "Komban" - which stars Karthi and Laksmi Menon in the lead - has also completed its fourth weekend at the box office and has managed to stay in the third position at the Chennai box office. The movie has made a total collection of ₹2,89,48,453 in its fourth week.
In the fourth position is Udayanidhi Stalin-Nayanthara-Santhanam starrer "Nanbenda" with collection of ₹2,33,79,708 and has completed four weekends at the box office.
[Read 'Nannbenda' (Nanbenda) Movie Review: Watch Only If You Badly Crave to See Nayanthara Onscreen]