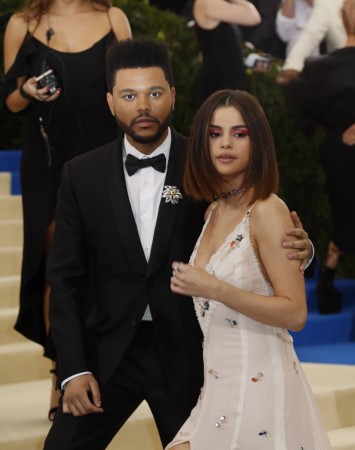 Selena Gomez and her Canadian boyfriend Abel Makkonen Tesfaye a.k.a The Weeknd have apparently got engaged and are all set to walk down the aisle soon.
Earlier this week, the celebrity couple grabbed all attention during their PDA-filled red carpet debut at the Met Gala, which reportedly made the Starboy singer's ex-girlfriend Bella Hadid jealous. To add fuel to the fire, now the 24-year-old It Ain't Me singer's mother, Mandy Teefey, has approved of her daughter's relationship.
Industry insiders revealed the 20-year-old fashion model was left heartbroken seeing her former lover enjoying the annual gala with his new girlfriend. According to the source, she could not bear to watch him getting cosy with The Heart Wants What It Wants singer.
Also Read: This Video proves that Selena Gomez is the biggest fan of The Weeknd
"Bella [Hadid] is crushed after having to see Selena [Gomez] look so in love with Abel [Tesfaye] at the Met Ball. Selena and Abel really looked like a stunning couple at the ball and it hurt Bella's heart to see her ex, in person, look so happy with his gorgeous new girlfriend," the source told Hollywood Life.
The industry insider also claimed that Gigi Hadid's little sister is really happy for Abel, but it's hard for her to see him with another girl. "Bella wants to move on from Abel and wishes the best for him, but it was hard for her to see all of the heavy PDA right in front of her face at the Met Ball," the source said.
Meanwhile, Gomez's mother seems to be really happy for her daughter as she commented on The Weeknd's latest Instagram post. "Glowing, smiling, looking health and equal love. Mama is happy XO," she wrote.
Mandy Teefey also added a photo of the celebrity couple to her Instagram stories and wrote, "@selenagomez @theweeknd enjoy the ball....yes, I am happy my daughter is happy. Turning off comments because they are vile and I was so unaware how many people know these people personally. My page is not for hate, name calling and uneducated opinions. XO."
Rumour has it the couple is engaged and the wedding is on the cards.
"Selena & The Weeknd Engaged! How He Proposed," read the cover of Ok magazine's latest issue.
However, the former Disney star and her Canadian boyfriend are tight-lipped about their future plans. People close to them said the two are enjoying their time together and they just want the world to know that they are dating, according to Gossip Cop.