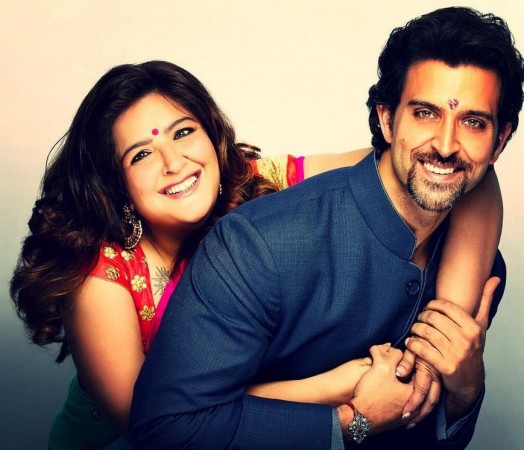 It looks like the Roshan family is in for a happier period ahead.
Hrithik Roshan's sister and Rakesh Roshan's daughter Sunaina Roshan, who faced a lot of hurdles in her personal life, has found love once again and is ready to settle down soon.
A cancer survivor, Sunaina, who went through two failed marriages and a broken engagement, was recently spotted with her boyfriend Bharat Kapoor, an Architect by profession, at Dabboo Ratnani's calendar launch event.
Admitting to being in a relationship, Sunaina told DNA: "Yes I have found love again. These last few years have been very traumatic for me. My life went haywire for a bit but now it's on track once again. Bharat and I met almost 10 months ago when we were at a pathology lab where we had gone for some tests. I have known him since my college days. We kept meeting after that and we have been dating for almost a year now. Our families have met each other and approve." (sic)
Talking about her brother Hrithik's reaction to her being in a relationship with Bharat, Sunaina said that he is very happy for her.
Throwing some light on her relationship with Bharat, Roshan said: "I am very confident about him and our relationship. Bharat is an amazing man. For me he is the complete man. What attracted me to him is that we always have lots to talk about. We have both been divorced so we know what relationships and marriage mean to us. Once we started dating we knew it will go somewhere. Our relationship is here to stay."
Further, Sunaina hopes that Bharat will propose her for marriage on her birthday, 22 January.
In other news, Hrithik, who had been shooting for Ashutosh Gowariker's mega-project "Mohenjo Daro", was injured on the sets. The "Bang Bang" actor has reportedly been advised bed rest for a couple of weeks.