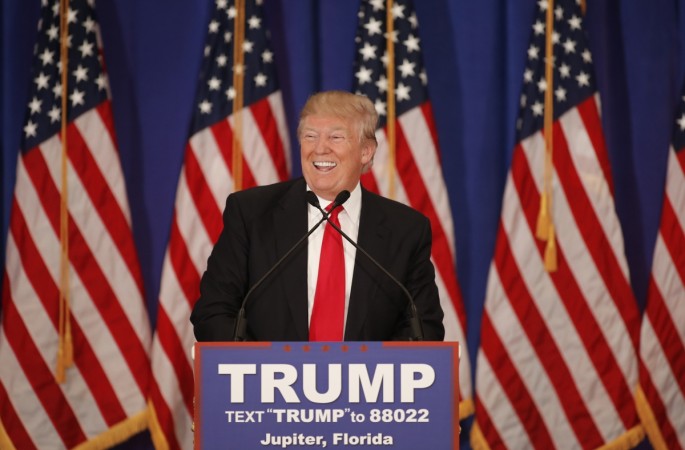 Indian students shouldn't be kicked out of the U.S. when they graduate from U.S. universities because the country needs smart people, Republican presidential candidate Donald Trump said. The billionaire politician earlier said that India was taking advantage of the U.S.
Last week, he said that he would scrap the non-immigrant H1-B visa, over which India's Chief Economic Adviser Arvind Subramanian had raised concerns. The visa allows employers to hire immigrants for a short period of time for speciality professions.
It is largely used by IT firms, and scrapping it would be detrimental to India as it exports services at a large-scale, the Free Press Journal quoted Subramanian as saying.
"Whether we like that or not, they pay, et cetera, et cetera but we educate a lot of people, very smart people. We need those people in the country. They cannot come into the country. You know, they go to Harvard, they are first in their class and they're from India they go back to India and they set up companies and they make a fortune and they employ lots of people and all of that. Many people want to stay in this country and then want to do that. I think somebody that goes through years of college in this country we shouldn't kick them out the day they graduate, which we do," Trump told Fox News in an interview, according to PTI.
Previously, the presidential candidate in November 2015 had said that China and India were taking advantage of the U.S. His policy on immigration, which was released in August, 2015, proposed increasing the minimum wage of holders of the H1-B visas in a move to stem flow of foreign workers in the country. Trump earlier said that the H1-B visa was "unfair" to Americans.
The real estate tycoon's policy on immigrants has been known to be "all or nothing." He likened immigrants to poisonous snakes who bite the person showing it kindness, the Independent reported. However, Trump apparently expressed these views on illegal immigrants.