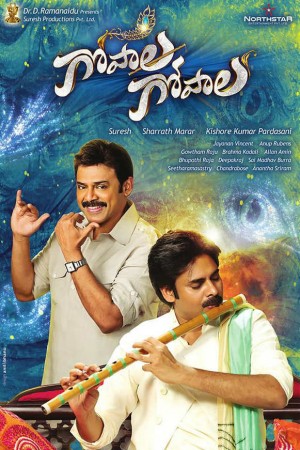 Victory Venkatesh, who has teamed up with Pawan Kalyan for the first time, has said that the Power Star is the perfect match for the role Lord Krishna in "Gopala Gopala" and his role has got more screen presence than the one in the original Hindi film.
"Gopala Gopala" is the remake of "OMG! Oh My God". The movie revolves around the story of an atheist shopkeeper, who sues gods of all religions. Venkatesh and Pawan Kalyan appear as shopkeeper and Lord Krishna, which were played by Paresh Rawal and Akshay Kumar respectively in the original Bollywood film.
Debutante Kishore Kumar Pardasany, who turns director with "Gopala Gopala", has made some changes in the screenplay of the Telugu version of the Bollywood film. The director has also extended the roles of Lord Krishna and the shopkeeper's wife, which had limited scope in the Hindi version.
In an interview to Deccan Chronicle, Venkatesh said that he plays a man from a middle class family, who has lost his property and wants to sue God. Meanwhile, the actor also confirmed about the changes made in the Telugu version of "OMG! Oh My God".
"We made a few changes and extended Pawan Kalyan's role. We have also added more scenes between me and Shriya. We worked hard on this film," Deccan Chronicle quoted Venky as saying.
"I was supposed to work with Pawan Kalyan 10 years ago. We always wanted to do a film if the right script came up. For the role of God, our first choice was Pawan Kalyan and when my brother Suresh approached him, he immediately accepted it," added Venkatesh.
Meanwhile, Venky also revealed that he wants to work with all Tollywood superstars in an "Avengers" kind of a film. "I want to work in a film where I co-star with Chiranjeevi, Nagarjuna, Balakrishna, Pawan Kalyan, Mahesh Babu and others. This is my dream film and I hope this dream will come true," said the actor.