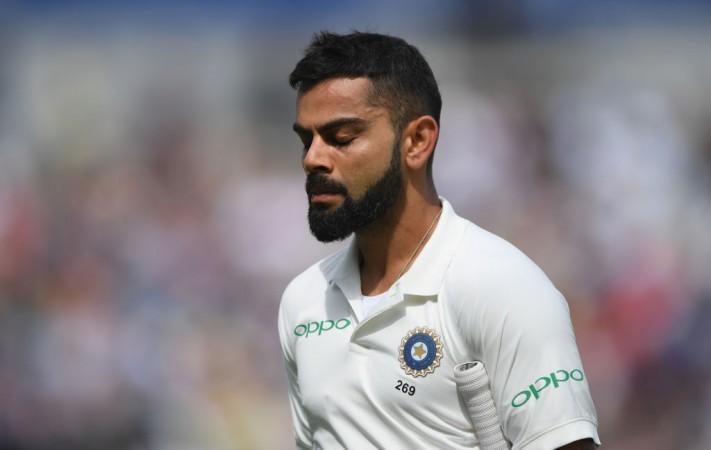 It was abject surrender and Indian captain Virat Kohli conceded that his side deserved to lose the match after putting up such a feeble performance.
He also said that he got the team combination wrong and should have played Umesh Yadav in conditions which were ripe for seam and swing bowling.
'Not proud of the way we've played'
"Yeah looking back, I thought we got the combination wrong. Not proud of the way we've played. First time in the last five Tests that we've been outplayed. We deserved to lose this game, the way we went about things," Kohli reflected after his side was handed a defeat by an innings and 159 runs.
India got a rough deal in the match after having lost the toss in the first innings ac Chris Woakes and James Anderson sliced through the batting order. However, the captain did not blame the conditions and praised the relentless nature of the English attack.
"You can't really think about conditions when you're playing the game. You can't sit and crib about these things. Sometimes the rub of the green won't go your way. Even when the ball's doing a bit, you have to pitch it in the right areas. Their guys were relentless; they made us work for the runs," he said.
The captain left the field on day 3 and did not lead the side out when the action commenced on day 4 as he nursing a back strain, but he did not sound too flustered about it.
"I should be fine. The lower back issue, I'm confident I'll be fine in five days time with a bit of rehab," he said.
Chris Woakes was declared the man of the match after his superb all-around performance. He not only wreaked havoc with the ball but also slammed a century in the first innings to put the game well away from the reach of the visitors.
The loss was humbling and it will take a great deal of heart of self-introspection for the Indian team to stage a comeback. The third Test match commences at Trent Bridge on August 18.