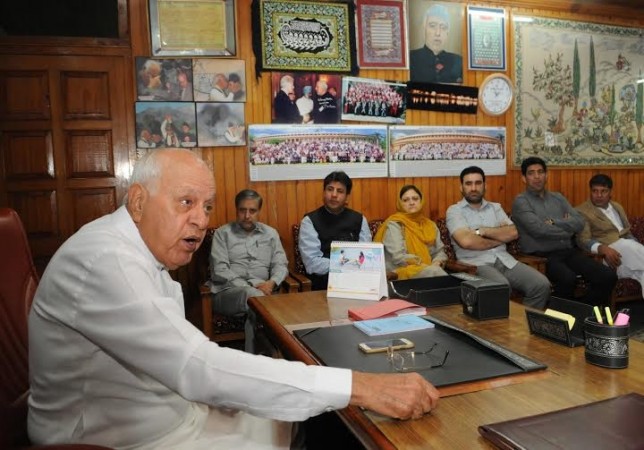 National Conference (NC) President Farooq Abdullah said on Friday that he and his party are only concerned about peace in Jammu and Kashmir and do not care about the surgical strikes carried out by the Indian Army. He also said that India and Pakistan "must sit down and resolve their issues."
Abdullah convened an all-party meeting in Srinagar on Friday over the present situation in the Valley. The killing of Hizbul Mujahideen commander Burhan Wani in an encounter on July 8 and the protests that followed have disrupted peace and normal life in Kashmir for over three months.
"We are concerned about peace, we don't care about surgical strikes. India and Pakistan must sit down and resolve their issues," Abdullah said at a press conference in Srinagar. He added that he wasn't interested in talking about the state government or the recent attacks in Uri.
"Mujhe Uri hamle pe kuch nahi kehna, mujhe sirf is riyaasat ko bachaana hai. Aman aur shaanti chahiye (I don't want to say anything on Uri attack. I just want to save this state. I want peace)... I'm here to find a way forward," the NC president said.
Srinagar: Farooq Abdulla convenes all party meeting over Kashmir situation pic.twitter.com/wgfWyJvpbk

— ANI (@ANI_news) October 14, 2016
We are only interested in peace, India and Pakistan must sit down and resolve their issues: Farooq Abdullah pic.twitter.com/NQR3hCJn0w — ANI (@ANI_news) October 14, 2016
"Remember what Vajpayee ji said — 'we can't choose our neighbours', so we have to talk to Pakistan, there is no other option... Terrorism increases when there is a strain in ties between two nations. Dialogue can solve everything," Abdullah further added.
When asked whether the sacrifice made by the Indian soldiers didn't interest him, Abdullah said: "We have never said we forget the sacrifice of soldiers. Are you their (Pakistan) agent, asking such questions?"
The NC president and father of Jammu and Kashmir's former chief minister Omar Abdullah also criticised the political parties that are just looking to win the Assembly elections.
"If we run the country on assembly elections' results, the country won't run. We need policies for the future of the nation, not temporary solutions because elections are here or elections are there," Farroq Abdullah said.
We are concerned about peace, we don't care about surgical strikes. Indian and Pakistan must sit down at a table to talks: Farooq Abdullah pic.twitter.com/V68gpqtwro

— ANI (@ANI_news) October 14, 2016