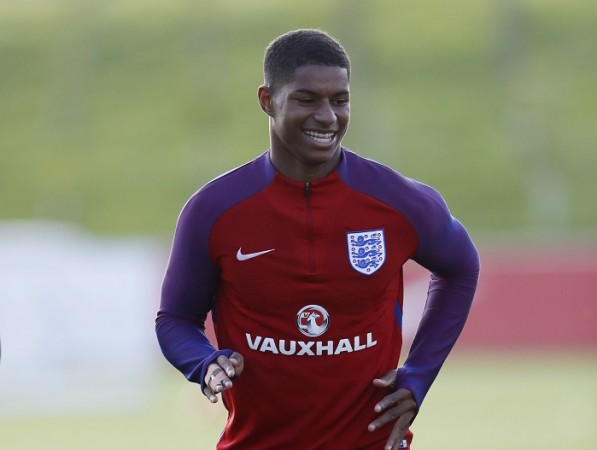 Wayne Rooney believes Marcus Rashford is a "superstar" in the making. The Manchester United forward has made a brilliant start to his career, and his club and England captain believes sky is the limit for the 18-year-old.
Since making his debut in a Europa League game under Louis Van Gaal last season, Rashford has, time and again, impressed with his ability on the ball, vision and goalscoring nous, belying his tender age.
Those performances have rightly led to many tipping Rashford to be the next big thing to come out of the Manchester United academy, and Rooney agrees.
"I think Marcus is doing fantastic," Rooney said. "He is probably one of the most exciting players in world football, young players, at the minute.
"I am sure if he keeps working hard and developing he'll be a superstar in years to come."
Manchester United are already a squad filled with superstars, with Rooney, even with his waning powers, one among those. While the veteran has lost his place in the starting lineup under Jose Mourinho, he still remains one of the main men for England.
Gareth Southgate insisted he had no hesitation in keeping Rooney as the England captain, and the interim manager will hope the 30-year-old puts in a match-winning performance in the World Cup qualifier against Malta this weekend.
While Rooney, and how he performs, is bound to be one of the main talking points of the match, there will also be a lot of focus on Rashford, and if he gets a chance to show his obvious talent under Southgate.
Having been dropped to the U-21s by Sam Allardyce, when he named his first England squad, Southgate has recalled Rashford back to the senior setup and Rooney believes it is more than well deserved.
"It's important with exciting young players that they get the rewards they deserve and I think he deserves it," Rooney added on Rashford, who has scored three goals in five Premier League games so fat this season.
"He's been fantastic since he got into the Manchester United squad and he's carried that on again this season so he fully deserves his chance to be in the squad and to play. And I'm sure if he does that he will take his opportunity."