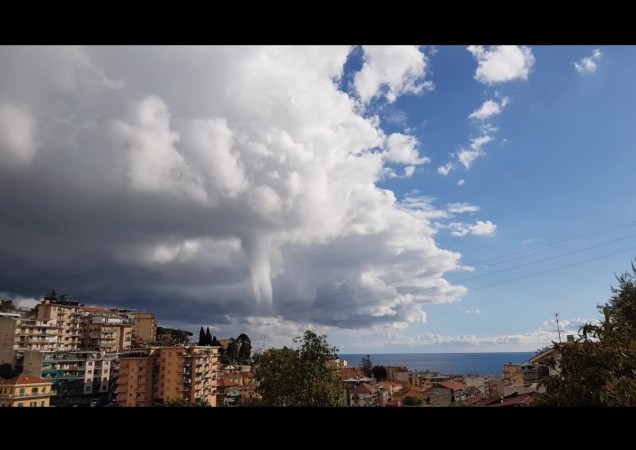 The stunning phenomenon called waterspout, witnessed at the harbour in the coastal city of Sanremo, located in north-western Italy, has been captured on camera.
ALSO READ: Yellowstone Supervolcano more likely than Nibiru to cause doomsday, say conspiracy theorists
Earlier on Friday December 1, the waterspout transformed into a tornado on land and caused damage to property in the Italian city.
Waterspouts are funnels of mist and clouds which form over a water body and start spinning. On an average, these phenomena last for a span of five to ten minutes.
ALSO READ: Here are 5 common mistakes people make while wearing condoms
Many people who witnessed the rare natural phenomenon shot its video and shared on social media.
Have a look at the bizarre phenomenon in this footage:
According to a BBC report, the devastation took place at a harbour in Sanremo after which it quickly moved inland, causing damage to roofs and vehicles within a few minutes.
ALSO READ: Here are 5 bizarre accidents that took place during sex
Other media reports revealed that this phenomenon did not cause any serious injury to any person.
"The beach was closed on the popular Italian Riviera tourist destination, while there were also reports of shattered windows, falling chimneys and damage to vehicles," a report by The Telegraph stated.
Check out this YouTube video to see the dramatic phenomenon: