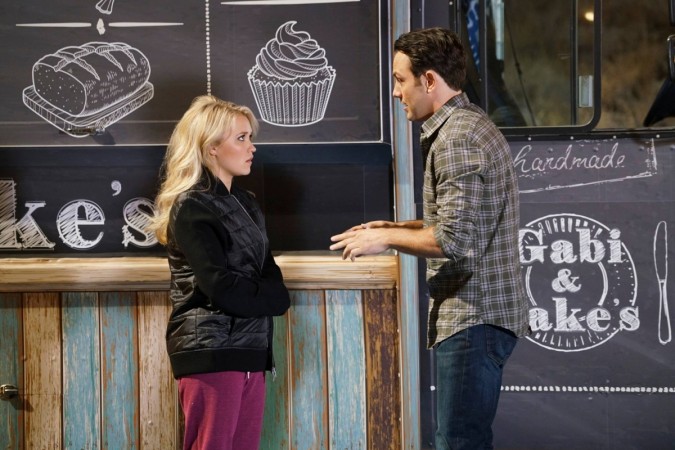 After the long wait, "Young & Hungry" is returning with Season 3 on Wednesday, 3 February via Freeform channel, ABC Family's new name. The last viewers saw Gaby (Emily Osment), she was on a two-week food truck adventure with Josh's (Jonathan Sadowski) younger brother Jake (Jayson Blair).
Although Gaby finds herself falling in love or having a crush every now and then, it is clear that she loves Josh, and it looks like Josh too, is ready to accept that the young chef may be the love of his life. In the Season 2 finale, Josh bought a food truck for Gaby and Jake, who seem to have a mutual attraction.
Although Josh called Gaby his friend, it looks like the couple is ready to take a step in the direction of a relationship in the upcoming Season 3. In a sneak-peak from "Young & The Next Day" Josh goes to Gaby's apartment and finds Sofia (Aimee Carrero) there, and tells her that he cannot get over Gaby and that he has to reach her before Jake uses his "Jake charm" and pushes him out of her head.
Also Read: Riley says yes to Danny's proposal in "Baby Daddy" Season 5 premiere?
In a promo for the premiere episode, Josh and Gaby are inside what looks like a gypsy house, and Gaby, dressed in all black, is wielding a whip. She climbs over Josh, who is on the bed, and starts hitting him, saying, "I know all your fantasies Joshua, and I'm gonna make them come true".
However, in true Gaby style, she hurts herself as Josh helplessly looks at her. Later, the couple is seen walking out of the place, and Gaby takes solace in the fact that at least their first awkward bondage experience in out of the way.
Watch Season 3 Episode 1 of "Young & Hungry" at 8 pm (EST) on Wednesday, 3 February. You can also live stream "Young & The Next Day" via Freeform Go Live.