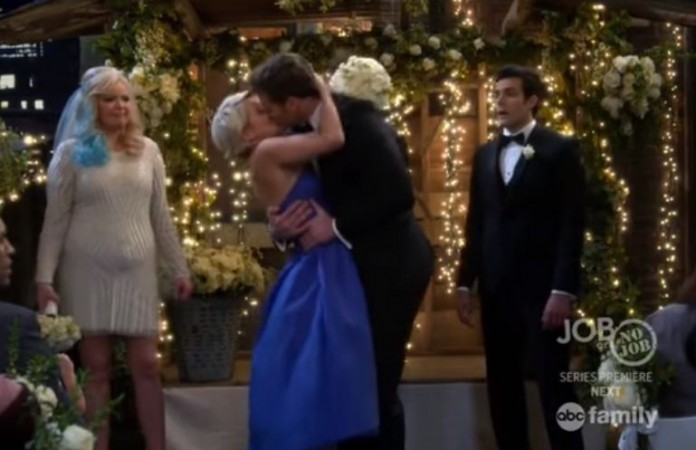 "Baby Daddy" has given its fans a roller coaster of emotions, from Riley's (Chelsea Kane) unrequited love for Ben (Jean-Luc Bilodeau) to Danny's (Derek Theler) unrequited love for Riley. However, after five seasons worth of love triangle drama, everyone's feelings are on the table, and while Ben is still in love with Riley, he inspired his brother Danny to declare his love for Riley in season 4 finale of "Baby Daddy".
The episode titled "It's a Nice Day for a Wheeler Wedding" had ended on a cliff-hanger, with Danny proposing to Riley and her not giving the answer right away. When the show returns, fans will immediately get an answer as to whether Riley will accept Danny's proposal or not.
But immediately after that is revealed, "Baby Daddy" will take a time leap, so as not to repeat the storyline of Ben and Riley relationship from the past season. Whether or not Riley says yes, it is confirmed that the older Wheeler brother and his childhood sweetheart will explore their relationship in season 5 of "Baby Daddy".
Also Read: Callie and Brandon say goodbye in The Fosters season 3 episode 11
Most fans believe that Riley will say yes to Danny, but they might not get married right away. However, fans need not get too upset about Ben, because he too is getting a love interest in Sam, a girl who joins Ben's bar as the new manager.
It is understood that Sam went to high school with the gang, and was not very nice to Riley during the time. This means that the two girls will fight about more than Ben in the coming episodes of "Baby Daddy". The role of Sam will be played by Danielle Monet, who is best known for her role as Trina Vega in the Nickelodeon series "Victorious".
You can catch Monet as Sam, and get answers to all your questions regarding Ben, Riley and Danny when season 5 of "Baby Daddy" premieres on Freeform (ABC Family's new name) on Wednesday, 3 February.