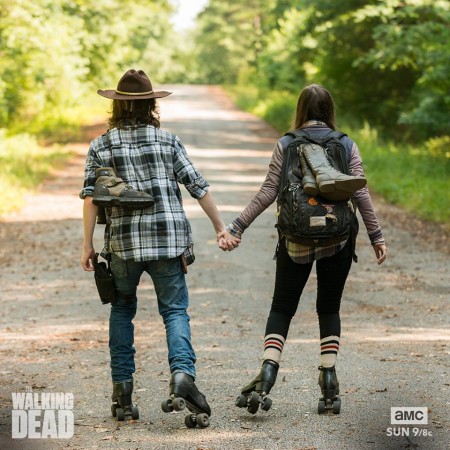 This Sunday's episode of The Walking Dead will mainly focus on Heath and Tara as they continue their supply run, and viewers will also be introduced to a new group of survivors in a community called the Oceanside. Watch the episode live on AMC this Sunday.
Warning: This post contains spoilers from the upcoming episode of The Walking Dead.
According to plot spoilers released by The Spoiling Dead Fans, a The Walking Dead fan site, the episode titled Swear will see Tara coming in contact with women from a new community. This community is all women and children as Negan's Saviors killed off all the men and older boys when they decided to fight back.
"They ran off and hid from the Saviors in the woods," the spoiler forum wrote. "Natania is their leader. The entire community is nestled in the woods near the ocean and covered heavily in brush and natural foliage, to where it is virtually unnoticeable from outsider."
As readers of Robert Kirkman's The Walking Dead comics already know, Oceanside gains prominence after the war against Negan. They begin trading with Alexandria, Sanctuary, Hilltop, and Kingdom and they become the main suppliers of seafood.
The spoiler community also revealed that Heath isn't shown dead in the episode. But rumours are rife that the character will no longer be active in The Walking Dead, as Corey Hawkins, the actor who plays Heath, has been cast as the lead in 24: Legacy, leaving him with no spare time to be on The Walking Dead.
The Walking Dead airs Sundays on AMC. The official synopsis for Swear reads: Someone stumbles upon a brand new society, and this society is unlike anything seen before.