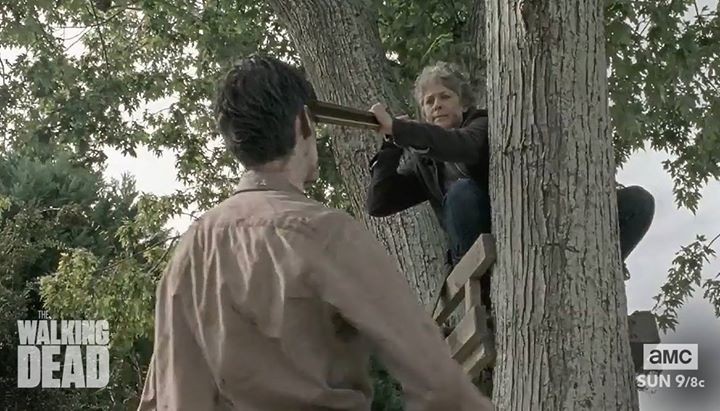 Season 7 episode 14 of The Walking Dead will see the Saviors bringing trouble to Hilltop, and it will see Maggie rising to protect the colony. Watch the episode live at 9 pm ET on AMC, and it will be available immediately after on-air broadcast for iOS, Apple TV, Android, Windows and on AMC.com.
Also read: Here's proof Anna Duggar has truly forgiven Josh for cheating on her
The synopsis for Walking Dead Season 7 episode 14 states that the residents of Hilltop will be caught off-guard by Saviors' visit, and that Negan's men have something else in mind other than just going off with their supplies.
According to TSDF Army, the Saviors led by Simon visit the Hilltop for Dr Carson. The spoiler forum wrote in a Facebook post: "Simon basically tells Gregory that 'a certain somebody of his now needs to be a certain somebody for Negan.' Then he announces they're taking Dr. Carson. It is revealed here that the 2 Dr. Carson's are actually brothers just like in the comics. Also, apparently the extra-crispy Dr. Carson may have been an asshole by nature because the Hilltop Carson asks, 'What did my brother do? Piss off somebody?' when he finds out his brother is dead. "
Elsewhere in the episode, viewers will see Maggie and Daryl reminiscing about Glenn, and Daryl revealing that he feels responsible for Glenn's death. Maggie tries to appease Daryl saying Glenn thought he was one of the good guys in their zombie-infested world. This happens when Daryl and Maggie are hiding in the cellar to prevent being captured by the Saviors.
The Walking Dead airs Sundays on AMC.