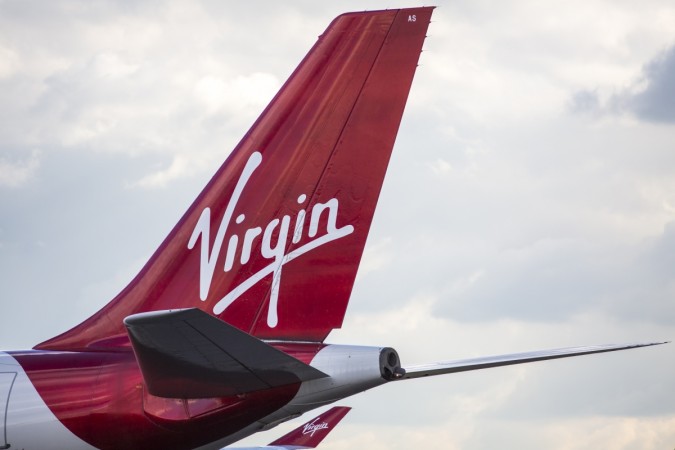 Two passengers, both in their late 20's seemed eager to join the mile-high club. The duo who were traveling in a Virgin Atlantic flight was caught in a sexual activity by a flight stewardess. The incident took place in the Cancun bound flight which took off from Gatwick airport.
According to a report by The Sun, the passengers who were caught joining the mile-high club had just met on the flight. Shortly after the take-off, the woman reportedly began chatting with her fellow passenger. Soon, both of them headed to the economy cabin loo.
Soon after this, three flight stewardesses started banging on the door and that's when they found the woman sitting on the toilet seat while the man standing with his trousers down.
The man who was totally embarrassed emerged from the toilet, one of the stewardesses slammed him, asking, "Would you jeopardize your holiday for a b**w job?"
The man further tried to explain that the woman had fallen sick, but the attendant quickly snapped back, "You're not even traveling together. Why were you in there?"
Watch the video here.
A passenger was quoted in The Sun saying, "She [the woman] turned up on the plane totally sloshed at 12.30pm. She was very friendly and approached me and my pal for a chat. The woman then struck up a bond with a guy who was traveling on his own and sat across the aisle from her. They were kissing.
"They were both in their late 20s, but were total strangers before getting on the plane. Minutes later she disappeared into the toilet — and he followed her in. It was so obvious. Everyone knew what was happening because she had been so loud and rowdy."
Well, the drama did not end there as the alleged woman had a scuffle with one of her female friends following the incident. And, that's when her friend yelled at her, "Don't you f***ing ever... Do you understand me?"
Police detained the woman after the flight landed in Mexico.
Virgin Atlantic said in a statement: "Flight VS93 from Gatwick to Cancun on March 13 was met by the authorities on arrival due to disruptive behavior on board.
"The safety and well-being of our customers and crew is our top priority, and we won't tolerate any behavior that compromises this."
Just a month ago, a Bangladeshi man was arrested by the Dhaka authorities after he allegedly stripped naked, watched porn, masturbated and attacked an attendant during the flight.