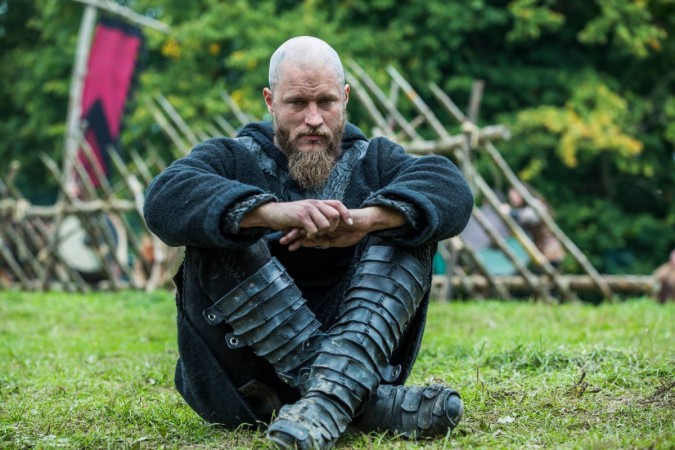 Ragnar Lothbrok (Travis Fimmel) has never been more distant from his men. Admittedly Season 4 of "Vikings" has recorded some of the most tumultuous times for the Norseman. In the latest instalment, episode 8 titled "Portage" the fight between Ragnar and his brother, Rollo (Clive Standen) becomes personal.
[Spoiler Alert]
After suffering a humiliating defeat at the hands of Rollo in episode 7, the morale among Ragnar's men is at an all-time low. King Harald (Peter Franzen), who has been eyeing Ragnar's seat, makes a threatening statement to Lagertha (Katheryn Winnick) that someone is always responsible for defeat. While he attempts to subdue the ruler of Kattegat, Ragnar devises a plan so that his men don't feel let down by him.
The synopsis for "Portage" (via TV Guide) details that Ragnar will fight back and the promo hints at a possible collaboration between Floki and Ragnar. In the promo, Floki (Gustaf Skarsgård) says, "Whatever I do, it is for you, Ragnar." Does Floki find a cure for Ragnar's drug addiction?
Meanwhile, Rollo fears a backlash from his brother. He knows that the battle is far from over. Rollo informs Emperor Charles (Lothaire Bluteau) that Ragnar could attack them anytime.
"As long as my brother is alive; he is not defeated," Rollo says. For Rollo, this defeat is personal as he knows that he can't stamp his mark in history unless his brother is dead. Will the brothers take part in a face-to-face battle in the upcoming instalment? This remains to be seen.
"Vikings" Season 4 episode 8 airs 10 p.m. EST on Thursday, April 7, on History Channel. You can live-stream the episode via History Channel's website.