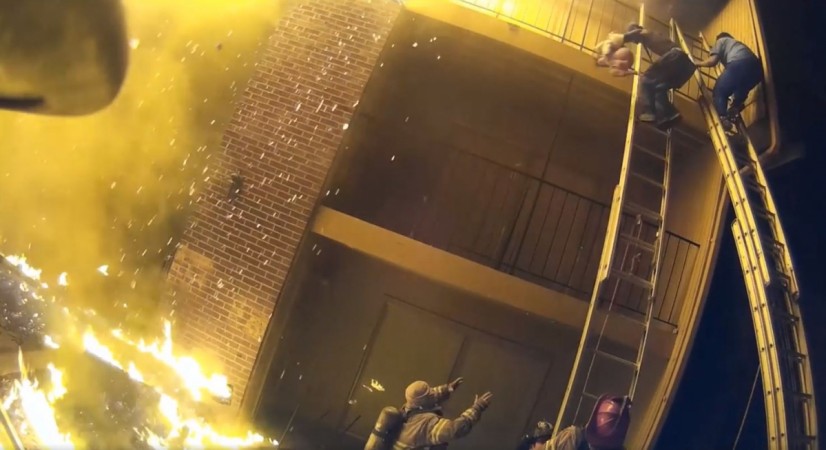 A firefighter in Decatur, Georgia, has been hailed as a hero after he saved a baby who was dropped by parents from the third floor of a burning apartment.
The incident came to light after a video showing the firefighter catching the baby dropped from the balcony of the apartment went viral on social media. The firefighters' union in DeKalb County shared the video on Facebook on Sunday, following which it became viral.
The video, which was taken by another firefighter's helmet camera, shows firefighter Capt. Scott Stroup catching the girl, carrying her away and wrapping her in a blanket before collapsing to his knees. The baby was dropped by the father who was climbing down a ladder.
"We were catching babies like a football - literally," fire Capt. Eric Jackson told local media at the scene. "There were adults that were on the balcony that were dropping their babies right into our arms. We had a couple firefighters catching babies, so it was just really incredible."
Another firefighter, Captain Jackie Peckru, was praised for catching a child during the rescue operation. "That was the only thing running through my mind... 'Lord, let me catch this baby,'" she told Fox 5 Atlanta.
The fire broke out at in Decatur, Georgia at the Avondale Forest Apartments and 12 people, including eight children, were rescued.
Meanwhile, the video has gone viral on Facebook and has garnered over 1,45,000 views and has been shared more than 2,300 times by the time of publishing this article.
Several Facebook users commented on the video and praised the firefighters for saving the lives of the people. Here's what Facebook users said.
Randy Monk: Wow!!! Nice catch! And that wasn't a Baby ! That's a big kid
Ron Shapley: DeKalb County "BRAVEST" God Bless and protect them...
Reina Matychak: Thank you to all firefighters and EMTs for all your efforts every single moment for ALL of us!! With a very humble & grateful heart
J.E. Murph: Hero's are hero's, they don't care about color, race,religion or your political views their just hero's
Johan Mendoza: My respect to those brave firefighters... And to all that serve and have served