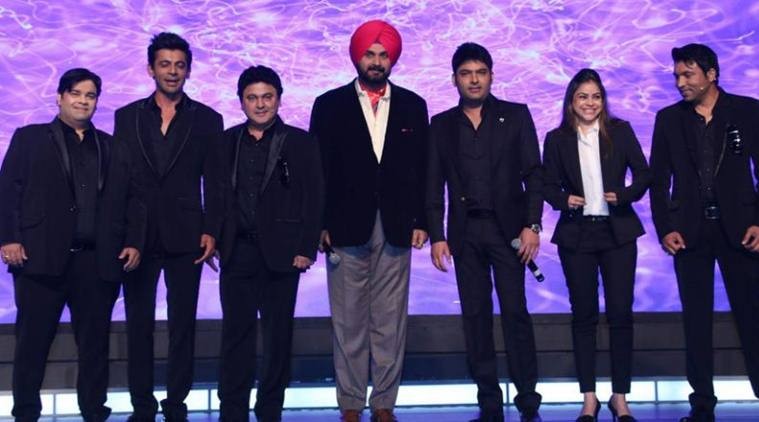 Navjot Singh Sidhu has requested Sunil Grover, Ali Asgar and other artists to return to The Kapil Sharma Show and the video of his emotional speech has gone viral in the social media.
A few members left The Kapil Sharma Show following Kapil's ugly fight with Sunil Grover. Though Kapil apologised several times for his misbahaviour, they have refused to come back on his show. Ever since, the TRP of The Kapil Sharma Show has reportedly nosedived.
Meanwhile, The Kapil Sharma Show completed 100 episodes and the makers of the show brought Navjot Singh Sidhu as chief guest on the landmark episode. Kapil Sharma thanked everyone including the people who have left the show. Joining him, Sidhu requested the artistes who left the show to come back.
"This is a bouquet created by God. It is not possible for a man to create such a big show and make it touch the milestone of 300 episodes. I will request everyone to not let the flowers of this bouquet scatter and keep it together and let the world enjoy its fragrance. The Kapil Sharma Show neither belongs to Kapil, nor to him and not to anyone else but to its countless fans," Sidhu said.
Sony Entertainment Television posted the emotional video of Sidhu on its official facebook page on April 21 with a note: "Kapil sharma aur Navjot Singh Sidhu Paaji ke yeh chand shabd aapka dil chhu lenge. Watch this emotional moment in #TheKapilSharmaShow's 100th episode, this Sunday at 9 PM."
The emotional video of Sidhu has been viewed over 3.5 lakh times. It also garnered 18,000 likes and nearly 300 comments. Some viewers also requested Sunil Grover and others to return.
Syed Hyder wrote: "Come back sunil ..In this time where hatred is spread in the country you are the people who gives us happiness..I think 90% people want to you to come back and spread happiness in our India."