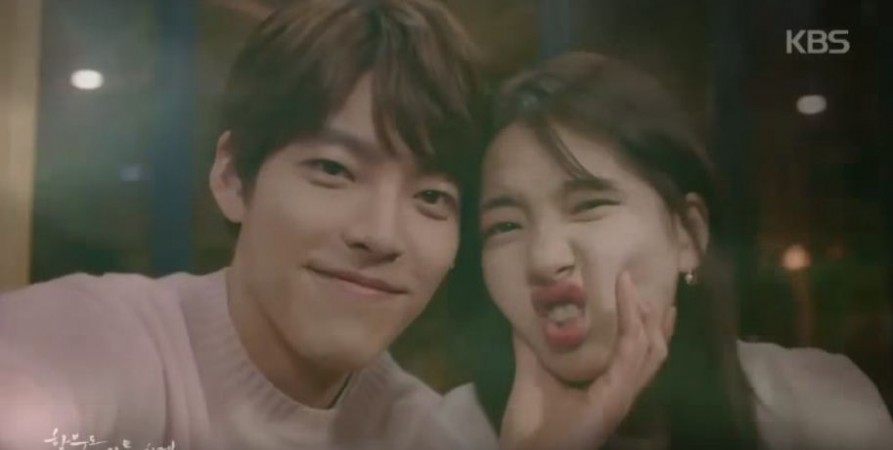 KBS drama "Uncontrollably Fond" is proving to be a lot more emotional and dramatic than fans had anticipated. So far, we have seen No Eul (Bae Suzy) and Shin Joon young (Kim Woo-bin) have faced the highs and lows of their relationship over the course of 18 episodes, and all the secrets are out in the open.
In the previously aired episode of "Uncontrollably Fond", Joon young revealed to Eul via a video message that he is the son of Choi Hyeon joon (Yu Oh seong) and that he tried to kill Eul way back in the past because he wanted to protect his father's name. It was also revealed that Yoon Jeong eun (Lim Ju eun) is the female driver who was behind the hit-and-run that resulted in the death of Eul's father.
Now that every secret is out in the open, and Eul knows that Joon young probably has only a couple of months more to live, will she forgive his past errors? From the promo for episode 19 it looks like she will. It seems like Eul has run away from the rest of the world and is hoping that Joon young will find her, because she wants to spend the rest of his days with him.
Also Read: 'Bridget Jones's Baby' premieres to lackluster reviews
However, a scene from the promo also suggests that Eul herself might fall sick. She is seen clutching her stomach and enduring severe pain. Knowing the twists and turns the drama has seen so far, it would be wise for fans to brace themselves for a tearful season ahead.
Meanwhile, everyone else in Joon young also learns about his illness, including his mother and his manager. They will do everything they can to save him and earn his forgiveness for ignoring him in the past. In the promo, Shin Young ok (Jin Kyung) is seen asking Hyeon joon to save their son using whatever means necessary.
Don't forget to watch episode 19 of "Uncontrollably Fond" at 9: 50 p.m. (Seoul, UTC+9) on Wednesday, Sept. 7, via KBS2. The episode will also be available for streaming via Drama Fever. Episode 20 will be aired at the same time on Thursday, Sept. 8.