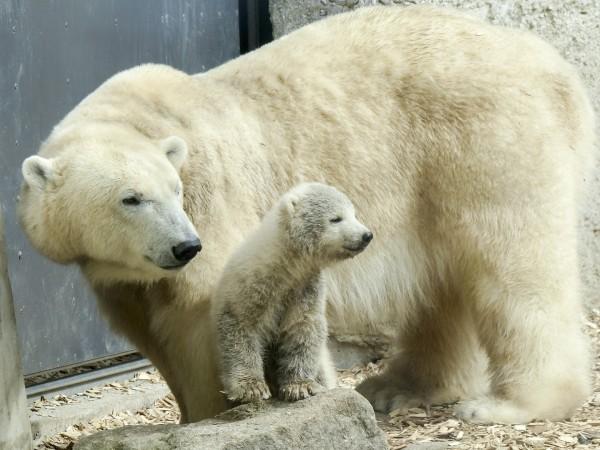 The UK has only one polar bear cub as of now — a news that would sadden many. But worry not, because the cub just learned to swim and the video of it swimming next to its mother for the first time ever is all kinds of adorable!
The keepers and staff at the RZSS Highland Wildlife Park in the Scottish Highlands called the incident, a "heart-pounding moment" as the little cub, who is also the first one to be born in the UK in the last 25 years, had never even gone close to the pond before. The unnamed cub's sex is yet to be determined by the staff.
The video shows the cub taking a little leap into the pond, following its mother Victoria – who "goaded" her baby into swimming with her and also helped it to stay afloat. Flapping around a little, the cub ducked under its mother's head, making sure it stayed close.
Eventually, however, it followed the mother in doing an unsteady lap around the pond, leaving onlookers aww-ing.
Sophie Di Sotto, 24, from Elgin, Moray, who captured the footage, "spoke to the keepers after the cub got out," reported Deadline News.
She was quoted as saying: "They said it was a heart-pounding moment because it had never gone so close to the pond. Their radio was going nuts with them talking about it and it felt like they all raced up to see it."
Sophie, an administrator for a social care charity, was at the park with her mother to see the bear just before the Easter holidays. "We went up twice to the exhibit because they were in their den when we first went up and the keeper there said to come back at 3 pm when she gets fed and we might catch a glimpse.
"So we went back at 3 pm and they did the feed and it was amazing to see how she doted on the cub. When she started moving towards the water I thought the cub was gonna just sit at the side which it did at first but then Victoria went over and helped it in.
"It was amazing to see how gentle she was and how she goaded it into swimming with her. It grabbed her tail to help it stay afloat.
"It really was a heart-stopping moment. But Victoria never left it's side and helped it out the water as well. Really good mum."
She posted the footage on Facebook right away, and since then it has garnered over a thousand views.