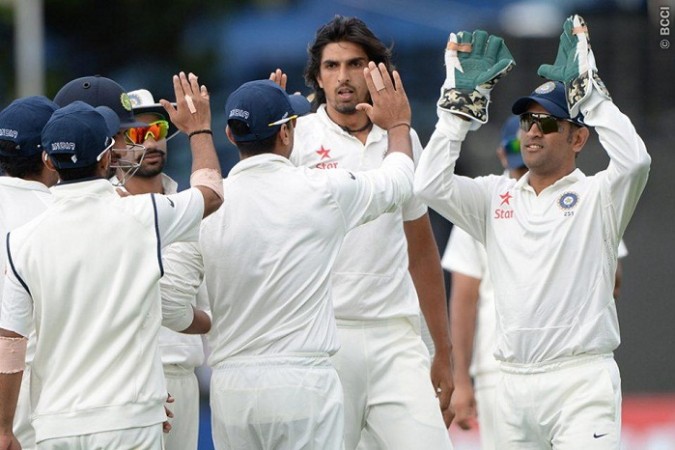 India will begin their two-month long England tour with a three-day warm-up match against the English County side Leicestershire at the Grace Road Ground on Thursday.
The 18-member Indian squad have only three players - Gautam Gambhir, skipper Mahendra Singh Dhoni and Ishant Sharma - who are familiar with the English conditions. So, the first of the two practice games is vital for the players to acclimatise themselves with the pitches and weather.
Getting the result is unlikely, so the Indian batsmen would be aiming to spend as much time as possible in the middle before facing the deadly English attack led by speedster James Anderson at the first Test match.
India have a good, but inexperienced pace attack featuring Ishant, Varun Aaron, Mohammad Shami, Ishwar Pandey and Pankaj Singh. There is a big question mark over their abilities to pick 20 wickets in the five-match Test series, starting 9 July.
They can expect a good workout against a side that features former Black Caps Scott Styris and current Ireland international Niall O'Brien. Opener Angus Robson is also in good form, following back-to-back fifties against Surrey in a county game this week.
However, Indian skipper MS Dhoni insisted that the experience of playing in South Africa and New Zealand will come handy for his young squad, which is on its biggest tour this season. The 32-year-old is expecting his team to get into the groove after playing few games before the first Test.
"For quite a few players this will be their first tour to England but most of them have been got the exposure playing in South Africa and New Zealand," Dhoni said. "With a few games behind them they will be at ease there. It's also a good thing that we're going a bit early, which will give us time to get into the groove."
He explained that he will have an aggressive approach and back his instincts in the series and that there are other batsmen in the side who are capable of seeing off the time. He also said that he will play his natural game.
"I've realized that I have to be far more aggressive in my batting because I play much better that way than when I try to play like a proper batsman," the Indian captain said. "It's important to back your instincts and not think too much about the situation. I shouldn't look to bat out time because there are other batsmen who can do that. If the ball is in my slot - whether it's the first or the last - I should go for it."
Meanwhile, Indian coach Duncan Fletcher admitted that his players have very less experience of playing the longer format of the game, but added they are an exciting bunch and their unpredictability will help India in the series.
"Without making excuses it is a very, very inexperienced side: If you look at how many Tests our opening batters have played, how many Tests our No. 3 has played, how many Tests our bowlers have played," Fletcher said.
"But it is nice sometimes, because being unpredictable they will play some exciting cricket," he added. "There are some very, very exciting cricketers in this group who would go on to be very, very good cricketers for India. They might fire from this series and there will be some very, very good cricket played."
Squads: Leicestershire: Josh Cobb (c), Niall O'Brien (wk), Matthew Boyce, Nathan Buck, Ned Eckersley, Ollie Freckingham, Lewis Hill, Anthony Ireland, Richard Jones, Jigar Naik, Ben Raine, Dan Redfern, Angus Robson, Rob Sayer, Charlie Shreck, Greg Smith, Scott Styris, James Sykes, Rob Taylor, Shiv Thakor, Michael Thornley, Tom Wells and Alex Wyatt.
India: MS Dhoni (c & wk), Shikhar Dhawan, Murali Vijay, Gautam Gambhir, Cheteshwar Pujara, Virat Kohli, Ajinkya Rahane, Rohit Sharma, Ravindra Jadeja, Ravichandran Ashwin, Bhuvneshwar Kumar, Mohammed Shami, Ishant Sharma, Ishwar Pandey, Varun Aaron, Stuart Binny, Pankaj Singh and Wriddhiman Saha.
Where to Watch:
The first day's action between Leicestershire and India is scheduled for 10:00 am local time (3:30 pm IST, 2:00 pm GMT and 4:30 am ET) start. Catch the live scores HERE or HERE. Listen to the action HERE or HERE. Viewers can also watch the match live online HERE and HERE.