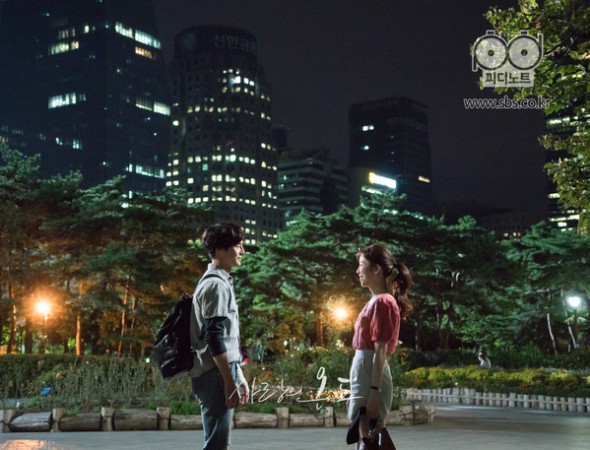 Temperature Of Love, the SBS series, will probably focus on the love triangle between Lee Hyun Soo, On Jung Seon and Ji Hong Ah when it returns with episodes 13 and 14 this Monday, October 9, at 10 pm KST.
The aspiring screenwriter is determined to split the on-screen couple and begin a relationship with the chef. She has been doing everything to ruin the life of her best friend and become the centre of attention in her friend's circle.
The promo shows Jo Bo Ah's character making her next evil move against the female lead. She meets Park Jung Woo and asks him if he got a chance to read her script. She might have got a positive response from him mainly because she puts forward some demands to work with him in the next scene. "I have to at least a dime more than Hyun Soo," she tells him. But he politely tells her that it's not possible.
Also read While You Were Sleeping episodes 9, 10 preview
The video also shows Ji Hong Ah confronting On Jung Seon. She asks him the reason to choose Lee Hyun Soo over her. "I never choose Hyun Soo over anyone. Don't try to make me feel guilty anymore," he replies.
Then, the screenwriter meets the female lead and asks, "Don't you care about how I feel because Jung Seon likes you? Are you so crazy about a man that you would throw away our friendship?" So the female lead tried to confirm if her best friend was secretly crushing on the chef.
Although the promo hints at a break up between the onscreen couple mainly because the chef was never a top priority for Lee Hyun Soo, a section of fans believes that she will never fall into her best friend's trap.
According to a Twitter poll conducted by International Business Times India Edition, an impressive 73 percent of the participants said that Lee Hyun Soo will never choose Ji Hong Ah over On Jung Seon. So, it remains to be seen if the love triangle will get more complicated in the upcoming episodes.
Click here to watch Temperature Of Love episodes 13 and 14 tonight at 10 pm KST on SBS. The mini-series will also be available online on video-streaming sites Viki and DramaFever.