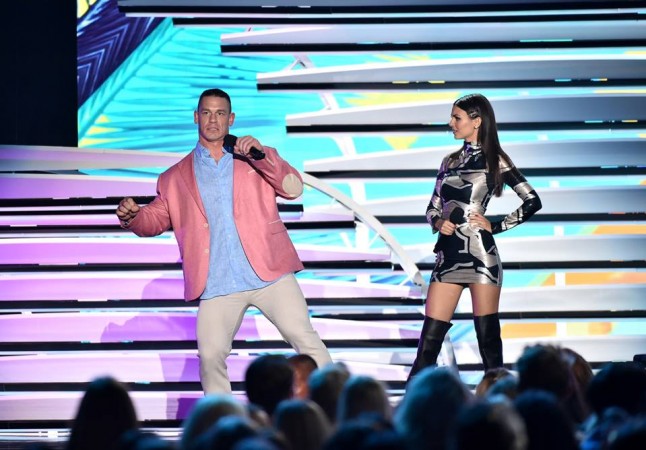 This year's Teen Choice Awards ceremony, which celebrates the year's achievements in film, television, music, fashion, sports, internet, and comedy, was held on July 31, 2016 at The Forum in Inglewood, California.
Viewers aged between 13 and 19 voted for celebrities through various social media platforms like Facebook, Twitter, and Instagram. This year's ceremony was hosted by John Cena of WWE fame and Victoria Justice of Nickelodeon musical "Spectacular!" fame.
Also Read: Teen Choice Awards 2016: Chloe and Brooklyn's PDA, Kendall's friendly rivalry and other juicy tidbits you missed
Some of the prominent winners this year were Chloë Grace Moretz for "Neighbors 2: Sorority Rising" (Choice Movie Actress: Comedy), Justin Bieber for "Sorry" (Choice Song: Male Artist), Selena Gomez (Choice Instagrammer), and Kylie Jenner (Choice Snapchatter).
To see the full list of the winners, CLICK HERE.
Several actors and actresses, who won the award, expressed their gratitude to the fans who made it happen and posted thank you notes on their respective Twitter handles:
I'm overwhelmed by all the love. Thanks to ALL my fans for voting
#TeenChoice #ChoiceDancer pic.twitter.com/2mW8YLSZf6
— Maddie Ziegler (@maddieziegler) August 1, 2016
Thank you to all my fans who nominated me and voted for me to win!!! @teenchoicefox #teenchoice… https://t.co/34ecYL1faM — Chloë Grace Moretz (@ChloeGMoretz) August 1, 2016
thank you all for the 2 Teen Choice Awards tonight!! feeling the love
your support means the world!
— Kendall (@KendallJenner) August 1, 2016
THANK YOU GUYS SO MUCH FOR VOTING FOR ME FOR #CHOICEMUSER ! ITS ALL THANKS TO YOU GUYS I LOVE YOU ALL MORE THAN ANYTHING
❤️❤️❤️❤️❤️ — Baby Ariel (@BabyAriel) August 1, 2016
I can't explain how I feel. OUR FANDOM IS THE BEST FANDOM IN THE WORLD! These awards go to you all!
❤️❤️ #ChoiceMaleWebStar #ChoiceYouTuber
— Grayson Dolan (@GraysonDolan) August 1, 2016
omgggg we won three @TeenChoiceFOX awards!!!! thank u so much for voting u guys and thank u teen choice!!! watching the show right now!
❣ — Camila Cabello (@camilacabello97) August 1, 2016
I JUST WON SOCIAL MEDIA KING
THANK YOU ALL SO MUCH!!!!
— Cameron Dallas (@camerondallas) August 1, 2016
No matter what happens, I love you all for voting. Sorry I couldnt be there or live tweet with you. I'm in Italy and it's sleepy time X
— Lilly Singh (@IISuperwomanII) August 1, 2016
While on stage tonight in Camrose @theBVJ I got word that I won a #TeenChoice Award! Wow!!! Thanks so much! I have the best fans ever!!!
— Carrie Underwood (@carrieunderwood) August 1, 2016
Thank you. We love you. @teenchoicefox #choicetvdrama pic.twitter.com/mFaiqZJ0vP — Janel Parrish (@JanelParrish) August 1, 2016
Though the ceremony is over, the audience can still watch it on Fox.com and all Fox Now apps, starting from Aug. 1.