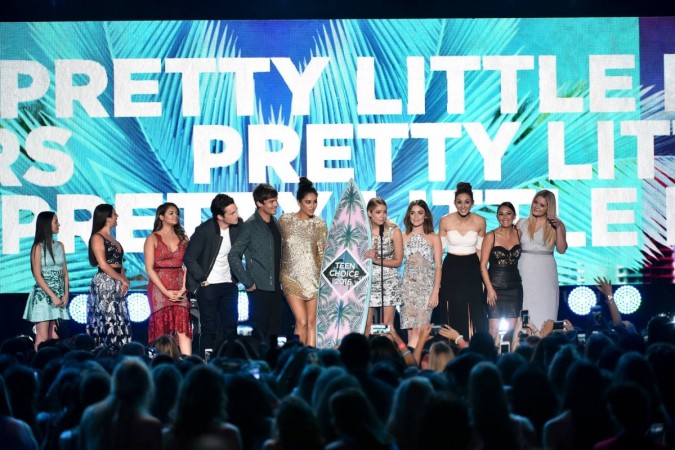 The Teen Choice Awards 2016, hosted by Victoria Justice and John Cena, celebrated fans' choices of what/who is the best in the world of entertainment and fashion. The annual event, held in Los Angeles on Sunday, July 30, was a resplendent evening graced by many stars' presence.
Among those who attended the award ceremony were Justin Timberlake, Lea Michele, Jessica Alba and several other celebrities, some of whom took home the famed surfboard.
This year, Freeform's "Pretty Little Liars" became one of the biggest winners of the evening. The TV series took home six surfboard trophies. Several other franchises such as the "Divergent" series and "Maze Runner" also picked up an award each.
Read on to see the complete winners list:
MOVIES
Choice Movie- Action: Deeadpool
Choice Movie Actor: Action: Dylan O'Brien – Maze Runner: The Scorch Trials
Choice Movie Actress: Action: Shailene Woodley – The Divergent Series: Allegiant
Choice Movie: Drama: Miracles from Heaven
Choice Movie Actor: Drama: Leonardo DiCaprio – The Revenant
Choice Movie Actress: Drama: Jennifer Lawrence – Joy
Choice Movie: Sci-Fi/Fantasy: Captain America: Civil War
Choice Movie Actor: Sci-Fi/Fantasy: Chris Evans – Captain America: Civil War
Choice Movie Actress: Sci-Fi/Fantasy: Jennifer Lawrence – The Hunger Games: Mockingjay – Part 2
Choice Movie: Comedy: Ride Along 2
Choice Movie Actor: Comedy: Jennifer Lawrence – The Hunger Games: Mockingjay – Part 2
Choice Movie Actress: Comedy: Chloë Grace Moretz – Neighbors 2: Sorority Rising
Choice Movie: Villain: Adam Driver – Star Wars: The Force Awakens
Choice Movie: Chemistry: Thomas Brodie-Sangster and Dylan O'Brien – Maze Runner: The Scorch Trials
Choice Movie: Liplock: Jennifer Lawrence and Josh Hutcherson – The Hunger Games: Mockingjay – Part 2
Choice Movie: Hissy Fit: Ryan Reynolds – Deadpool
Choice Movie: Scene Stealer: Jena Malone – The Hunger Games: Mockingjay – Part 2
Choice Movie: Breakout Star: Daisy Ridley – Star Wars: The Force Awakens
Choice Summer Movie: Finding Dory
Choice Summer Movie Star: Male: Kevin Hart – Central Intelligence
Choice Summer Movie Star: Female: Ellen DeGeneres – Finding Dory
Choice AnTEENcipated Movie: Suicide Squad
Choice Movie Actor: AnTEENcipated: Dylan O'Brien – Deepwater Horizon
Choice Movie Actress: AnTEENcipated: Cara Delevingne – Suicide Squad
MUSIC
Choice Music: Male Artist: Justin Bieber
Choice Music: Female Artist: Selena Gomez
Choice Music: Group: One Direction
Choice Music: R&B/Hip-Hop Artist: Beyoncé
Choice Music: Country Artist: Carrie Underwood
Choice Music Single: Female: "Dangerous Woman" – Ariana Grande
Choice Music Single: Male: "Sorry" – Justin Bieber
Choice Music Single: Group: "Home" – One Direction
Choice Music: International Artist: Little Mix
Choice Music: Country Song: "Without a Fight" – Brad Paisley featuring Demi Lovato
Choice Music: R&B/Hip-Hop Song: "One Dance" – Drake
Choice Music: Rock Song: "Jet Black Heart" – 5 Seconds of Summer
Choice Music: Love Song: "Perfect" – One Direction
Choice Music: Break-Up Song: "Love Yourself" – Justin Bieber
Choice Summer Song: "Work from Home" – Fifth Harmony featuring Ty Dolla $ign
Choice Summer Music Star: Group: 5 Seconds of Summer
Choice Summer Music Star: Male: Zayn Malik
Choice Summer Tour: Sounds Live Feels Live Tour – 5 Seconds of Summer
Choice Music: Party Song: "Cake by the Ocean" – DNCE
Choice Music: Breakout Artist: Zayn Malik
Choice Music: Next Big Thing: Hey Violet
Choice Music: Song from a Movie of TV Show: "I'm in Love with a Monster" from Hotel Transylvania 2 – Fifth Harmony
TELEVISION
Choice TV Show: Drama: Pretty Little Liars
Choice TV Actor: Drama: Ian Hardin- Pretty Little Liars
Choice TV Actress: Drama: Ashley Benson- Pretty Little Liars
Choice TV Show: Fantasy/Sci-fi: Once Upon a Time
Choice TV Actor: Fantasy/Sci-fi: Grant Gustin-The Flash
Choice TV Actress: Fantasy/Sci-fi: Lana Parrilla- Once Upon a Time
Choice TV Show: Comedy: Fuller House
Choice TV Actor: Comedy: Ross Lynch- Austin & Ally
Choice TV Actress: Comedy: Candace Cameron Bure- Fuller House
Choice TV Show: Animated: Family Guy
Choice TV Show: Reality: Keeping up with the Kardashians
Choice TV: Villain: Janel Parrish- Pretty Little Liars
Choice TV: Scene Stealer: Sasha Pieterse- Pretty Little Liars
Choice TV: Breakout Star: Matthew Daddario- Shadowhunters
Choice TV: Breakout Show: Shadowhunters
Choice TV: Chemistry - Ashley Benson and Tyler Blackburn- Pretty Little Liars
Choice TV: Liplock: Jennifer Morrison and Colin O'Donoghue- Once Upon a Time
Choice Summer TV Show: Teen Wolf
Choice Summer TV Star: Male: Dylan O'Brien- Teen Wolf
Choice Summer TV Star: Female: Shelley Hennig- Teen Wolf
DIGITAL
Choice Web Star: Female: Lilly Singh
Choice Web Star: Male: The Dolan Twins
Choice Web Star: Comedy: Lilly Singh
Choice Web Star: Fashion/Beauty: Bethany Mota
Choice Web Star: Music: Christina Grimmie
Choice Social Media King: Cameron Dallas
Choice Social Media Queen: Fifth Harmony
Choice YouTuber: The Dolan Twins
Choice Twit: Justin Beiber
Choice Viner: Lele Pons
Choice Instagramer: Selena Gomez
Choice Snapchatter: Kylie Jenner
Choice Muser: Baby Ariel
Choice Fandom: One Direction
FASHION
Choice Female Hottie: Kendall Jenner
Choice Male Hottie: Harry Styles
Choice Style: Male: Nick Jonas
Choice Style: Female: Zendaya
SPORTS
Choice Male Athlete: Stephen Curry
Choice Female Athlete: The Bella Twins
Choice Sports Team: United States 2016 Olympic Team
MISCELLANEOUS
Choice Comedian: Ellen DeGeneres
Choice Dancer: Maddie Ziegler
Choice Model: Kendall Jenner
Choice Selfie Taker: Ariana Grande