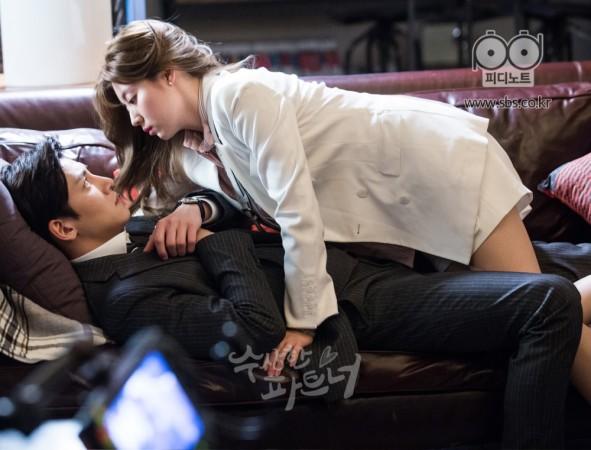 Suspicious Partner, the SBS crime thriller series also known as Love In Trouble, will be back with episodes 17 and 18 this Wednesday, June 7, at 10pm KST. It is likely to feature troubled moments for the onscreen couple, Noh Ji Wook and Eun Bong Hee.
The Korean period drama will pick up right from where it ended in episode 16, and focus on the blossoming romance between the male protagonist and his mentor. After keeping a distance from each other for some time, the two of them shared an intimate moment.
The promo shows them discussing their complicated relationship. Ji Chang Wook's character will probably come up with a plan and it may confuse his junior attorney. The footage ends by hinting at some unexpected challenges for the two of them.
Also read: Watch Seven Day Queen episode 3 live online
Click here to watch Suspicious Partner episodes 17 and 18 tonight at 10 pm KST on SBS. The mini-series will also be available online on video streaming sites Viki and DramaFever.
Meanwhile, Korean drama lovers believe that the upcoming episodes of the mini-series will revolve around the relationship between Noh Ji Wook and Eun Bong Hee. According to a Twitter poll conducted by International Business Times, India Edition, 70 percent of the participants hope to see the happy moments of the onscreen couple.
However, 30 percent of the participants feel that the young attorney and her mentor will face some new challenges in the SBS drama.
On the other hand, serial killer Hyun Soo will try to kill forensic officer Chan Ho, mainly because the latter tried to betray the former by revealing his real identity to the female protagonist. However, the antagonist may not succeed in his mission as the trailer features a showdown between the two.
The promo also teases the next evil move of district Attorney Jang Moo Young. He may seek the help of Cha Yoo Jung and Na Ji Hae for planning his revenge against the onscreen couple. He desperately wants to punish them for killing his son, Jang Hee Joon.
Watch the trailer for Suspicious Partner episodes 17 and 18 below: