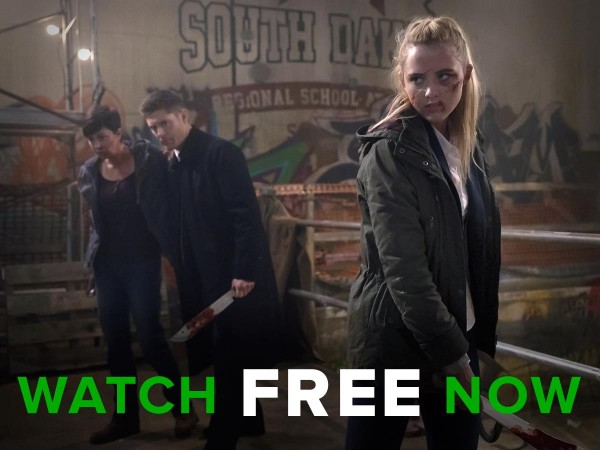 "Supernatural" Season 11 had started off on a great note of danger, with the impending Darkness (Emily Swallow) casting a shadow on all of humanity and the world. However, with the consecutive filler episodes apparently causing bumps in the storyline that the fans actually want to see; a showdown between the Winchesters and the Darkness.
The previously aired Season 11 Episode 12 "Don't You Forget About Me" had seen the return of three beloved characters – Claire (Kathryn Newton), Alex (Katherine Ramdeen) and Jodi (Kim Rhodes). Despite it being a filler episode, fans loved it, because of the element of broken family that "Supernatural" has earned expertise in.
Fans recently learned that Dean (Jensen Ackles) not only has a deep connection with Amara aka Darkness, but that there may also be an attraction. Unfortunately, he confessed it to the one person who could twist it – Lucifer, or rather, Casifer. As fans know, Lucifer is currently residing in Castiel's (Misha Collins) body, and Sam (Jared Padalecki) and Dean still don't know that.
Lucifer had promised Castiel that he would defeat Darkness, and he seems to be working hard on fulfilling this promise. He was even seen researching at the Men of Letters' library in Season 11 Episode 11 in "Into the Mystic."
Also Read: Peacock family returns to "The X-Files" for Season 4 Episode 2 "Home Again"?
Meanwhile, the Winchesters are oblivious, and continue to hunt local monsters. In the upcoming "Love Hurts," they will be seen solving a case wherein the victims' hearts will be ripped out. While the first name that comes to Sam's mind is "Ironic Werewolf," the monster is supposed to be more dangerous than any mythological creature.
The last time "Supernatural" did a Valentine's Day special episode was in Season 5, pegged to be the best season by most fans. In the season, people killed their loves ones."My Bloody Valentine" saw Famine (James Otis), one of the Four Horsemen of the Apocalypse, arriving in town causing people to act this way.
It had also introduced fans to Cupid (Lex Medlin), who loves love. He was innocent in Season 5, but could he have gone rogue? With the arrival of Darkness, anything and anyone can be corrupted – even love.
Watch Season 11 Episode 13 of "Supernatural" at 9 p.m. (EST) on Wednesday, Feb. 10. You can also live stream "Love Hurts" via CWINGO and CW Seed.